Always the Right Van
With vehicles of all different sizes, shapes and varying powers, you can select the perfect van hire for the job. Check the availability in your area.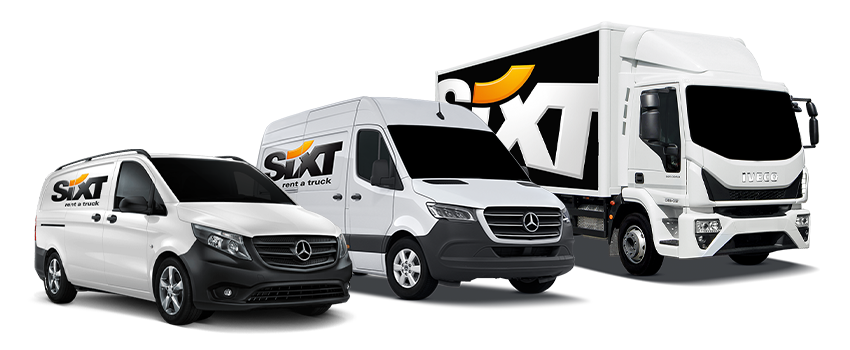 SIXT Van Hire Locations
SIXT Van Hire Brands & Models
Moving Services
Hire a Van with SIXT rent a truck
SIXT offers top quality moving van hires for journeys when you require enough space and power to shift home contents, luggage, packages, or goods. Whether you need something small to be able to pick-up new furniture or something more substantial to help you move house, Sixt Van Hire have you covered. Our customer service ethic ensures that you receive a van rental which is suited to your personal or business needs. The Sixt van fleet includes a variety of vehicles for you to choose from, including more compact vans to bigger trucks.
Common Van Hire FAQs
What do you need to rent a van?
To rent a van you just need to have a valid driving licence, payment method, and 2 forms of proof of address that are no more than 3 months old. You can hire all of our SIXT vans with a regular car driving licence.
How much does it cost to rent a van?
Renting a van is cheaper than you think with SIXT. Check our van rental special offers to find even lower rates and save on your next van hire.
Which vans are available to hire?
With SIXT, you can choose from a broad range of up-to-date and well-maintained vehicles. Our small vans include the Ford Transit Custom, Ford Transit 3.5T Large and VW Crafter. If you're moving house or need to haul more, the For Transit Luton with a tail lift is a practical and spacious option.
Van hire in the UK
Find the Right Van Rental for Your Needs
The versatile Sixt van hire fleet provides customers with van rentals which suit their individual requirements for space, fuel efficiency and road handling. Each vehicle is well serviced, comfortable, safe and can come fully equipped with extras and add-ons included at a low surcharge or as standard. Whether you are looking for a large van to transport your belongings when moving house or something for a delivery job, at Sixt we have a large network of rental locations boasting van fleets for your needs.
Sixt Moving Services
With over 60 convenient locations throughout Great Britain, locating your nearest van hire branch is simple. Hiring a van can cost substantially less than hiring a moving company to pack and move your home contents, packages, sporting gear or luggage. Since the hire vans in the Sixt fleet are well-maintained and fully serviced you have the added peace of mind of knowing that your vehicles will be safe on the road and fitted with an emergency safety kit should you need one.