Sixt Car Hire Services at LAX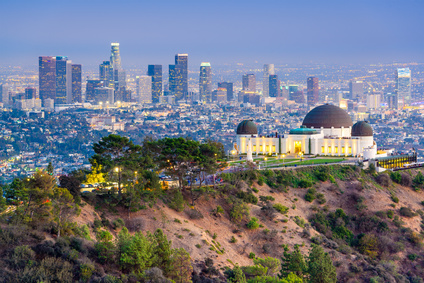 Enjoy the glitz and glamour of Hollywood's home city with a car hire from Los Angeles International Airport. Don't waste a minute upon arrival; just touch down and drive away with Sixt rent a car to get your 2017 / 2018 holiday off to the best start. Choose a large estate or hatchback to accommodate the whole family, while a sports car or convertible might help you capture that movie star look. Our range of 4x4s are as well adapted for urban travel as for rough terrain and ensure that you travel in comfort no matter how much luggage you bring.
Driving is the best way to get around during your stay in LA due to the sheer size of the city and its wide accommodating roads. Don't feel restricted by the confines of public transport and ensure you get to see everything you wanted during your trip at your leisure. Don't forget that at Sixt we are proud to offer great deals on luxury vehicles from world renowned manufacturers, such as BMW, Audi, Mercedes-Benz and Jaguar. Have the starring role in your own Hollywood story with a Sixt car rental from LAX.
Finding the Sixt Car Hire branch at LAX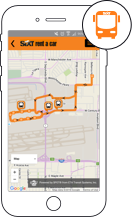 Our branch is located in the Westchester area, just south of Santa Monica. Your drive to the downtown area will take no more than half an hour.
To find the Sixt branch simply head to the shuttle bus area in front of each terminal building and look for the island marked Rental Car Shuttles. We have our very own designated service which will collect you from this point and take you directly to our office. The shuttle buses run every 15-20 minutes and you can live track the service here: Sixt shuttle tracker
Personalised Travel, Tailored to your needs in California
When collecting your car rental at Los Angeles Airport we are also proud to offer you the chance to select your exact vehicle model on your smartphone using our handy Sixt App half an hour before collection! There's something for everyone in this exciting city, so start exploring with a car rental from LAX.
Tailor your rental experience with our incredible range of extras, which you can add to your rental agreement at the click of a button. These include:
Built-in Sat Nav
Express Toll Service
Our exclusive Diamond Service
Child/Baby/Booster seats
One-Way Hire available to Las Vegas and San Francisco
Your LA Holiday in the Sun
With your car rental all taken care of, the real question you need to ask yourself is: what shall I do first? We have listed here the top activites in the Los Angeles area so you can start planning.
Sun and Surf at the Beach
Of all the gorgeous beaches in LA, Venice beach is at the top of list and what's more it's just a short drive from LAX itself.
Shopping and Style
LA is world famous for its shopping. With everything from low-cost thrift stores to high-end jewellers, there is nothing you cant find in this vibrant city. Head to Rodeo Drive to drop some serious cash or walk through the Fashion District to see the latest trends.
Old Hollywood Glamour
Take a stroll back in time along the Hollywood Boulevard, checking out the famous Chinese Theatre and Hollywood Walk of Fame.
Hike into the Hills
A particular highlight is a visit to one of the largest urban parks in Northern America, Griffith Park and visit the spectacular Griffith Observatory. Feel like you're hiking in the mountains, with easily the best views of city, from this scenic vantage point.
Head into the Desert
The Mojave Desert is just a short drive out of LA and provides an incredible contrast in scenery. Head to Joshua Tree to see the stark, rugged landscapes and incredible natural scenery.

Find out what our customers say about Sixt in LAX