At Sixt rent a car, we make sure you know everything about your rental vehicle, including vans, so that you can drive away happy and satisfied. If you rent an unfamiliar vehicle, our branch staff can show you around the car and how to operate it with ease. If you have any questions, see below for a list of our most frequently asked questions regarding our vehicles, including both rental cars and vans. If we were unable to answer your question here, feel free to contact our friendly customer services who will be more than happy to provide you with further details.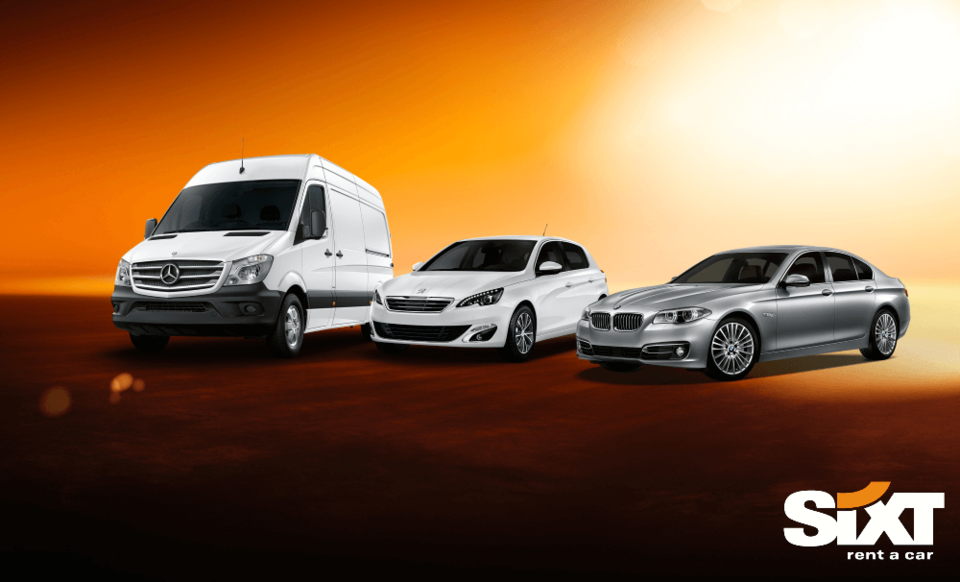 1.

Is it OK to smoke in a Sixt Vehicle?
No, it is Illegal to smoke in all rental vehicles.
2.

Are Pets allowed in the car?
Yes, Pets are allowed in Sixt vehicles, provided the seats are covered, or the animal is kept in a cage/carrier. Please be aware a vehicle cleaning fee may be applied should the vehicle return soiled.
3.

Can I take the vehicle out of the UK?
Certain vehicle types may be taken outside of the UK subject to additional fees. For more information please see our rental guidelines.
4.

What does the 4 letter code (E.g. CDMR) next to the vehicle I choose mean?
The 4 letter code you see next to the vehicle you choose is known as an ACRISS code and is used as an industry standard in classifying rental vehicles by their size/specification. For further information please visit the ACRISS website.
5.

Can I choose a specific make and model of car after making my reservation?
No – Due to various reasons we are unable to guarantee make and model, however we will be happy to accept requests for any particular preference you may have. However please be advised this is not guaranteed.
6.

Does the vehicle come with fuel?
The vehicle will be provided with a full tank of fuel and must be returned full, otherwise our current refuelling charge will apply.
7.

Can vehicles be delivered?
Sixt UK can only offer a delivery/collection service to our business account clients. However, some of our stations offer a delivery service to customers for an extra fee. Contact your branch for more information.
8.

What should I do if I have an accident or breakdown?
Please immediately contact our 24 hour incident support line, who will talk you through any further action: +44(0) 3444 993399
Please be advised, failure to notify us within 12 hours of your accident or breakdown may result in you being responsible for any costs incurred.
9.

What do I need to check before I drive the vehicle away?
It is important to check the vehicle before you agree to sign the Pre Rental inspection (PRI) document, as this lists all pre-existing damage and is used to determine if there is any 'new damage' to the vehicle upon return.
10.

Can I take a rental van out of the UK?
No – Our vans are not permitted to leave the U.
11.

Do I need a special license to drive a van?
No – All of our vans can be driven on a normal (Class B1) Driving license.
Please note that age restrictions may still apply - See our Rental Guidelines.
12.

Do you offer any other services to assist with moving/ transportation of goods?
Our branches do hire out and sell equipment that may assist you with your move. Our branches stock: packing boxes, loading straps, furniture covers and hire out sack barrows amongst other things (subject to availability). You are able to select these options on the last part of the online reservation process.
Please note: The FAQs within this section refer only to England, Wales and Scotland. For rental FAQs within Northern Ireland or any other country outside of the UK, please refer to the rental information page and select your destination country within the drop-down menu.
Breakdown Assistance: Telephone Number: +44 (0) 344 4 993399
Please note there will be no service charge for calling this number, only landline cost applies.