Drive away in the perfect vehicle with a car hire from Tampa International Airport. Sixt offers a wide variety of rental cars for business and leisure to suit your visit to Florida. Our modern fleet of vehicles include cars and estates, sports cars, convertibles and off-road vehicles from leaders in the automotive industry. You can also chose to add optional extras to your Tampa car hire, such as Sat Nav systems for help on unfamiliar roads, child seats and bike racks. Each car hire includes unlimited miles and a range of coverage options that deliver peace of mind while you are travelling. You can also select your vehicle with your iPhone from half an hour before pick-up to ensure you ge the model you want.
Car Hire Tampa International Airport
Tampa Airport, or simply TPA, covers most of the passengers heading to the west coast of Florida. It also services numerous international flights to the Caribbean, Central America, and Europe. From the terminal building, Sixt Rent a Car provides a free shuttle bus service to our car hire branch. Buses depart from bays outside the terminal and pick-up may be arranged from the Ground Transportation desk just outside the baggage reclaim area. For your convenience, Sixt offers 24 hour returns. Tampa International Airport and our branch just south of the airport are located off Interstate 275 near Tampa Bay.
See the Sights with Your Car Hire from Tampa Airport
Tampa is one of Floridas largest and most important cities. Having a car hire in Tampa is ideal to be able to travel and see everything that Florida has to offer. When you hire a car you can venture to unforgettable sights and attractions outside the citys downtown. Busch Gardens is a stunning amusement park and zoo with entertaining shows, thrilling rides and interesting wildlife to entertain visitors of all ages. Situated in North Tampa, the park is a great day trip and offers ample on-site parking. Also in North Tampa are the Lowry Park Zoo and the Museum of Science and Industry. Hire a car with Sixt to explore some of Floridas most famous attractions, including Disney World, Universal Studios and SeaWorld in Orlando. Located in central Florida, Orlando is about an hours drive from downtown Tampa. To the south, Sarasota is home to a vibrant arts scene, pristine beaches and the Ringling Estate, which boasts an art museum, circus museum and a palatial mansion. Closer the Tampa, a car hire is also ideal to enjoy the sun and sea at relaxing beaches in nearby St. Petersburg and Clearwater.
Finding Sixt Car Hire at Tampa Airport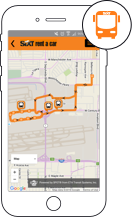 Once you arrive leave the airport building and proceed outside to the roundabout for Taxis, Courtesy Vehicles, and Off-airport Car Rental companies. Our free Sixt shuttle will pick you up at either at the stop Red 1 or Blue 2. The shuttle runs every 10 minutes from the airport to our rental facility and back. If you need any help, call us at +1-813-6668608. You can live track the service here: Sixt shuttle tracker
Find out what our customers say about us!
Omar Velazquez
( Branch Manager )