Sixt Car Hire Services at San Francisco Airport
Experience California in style when you book car hire at San Francisco Int. Airport. Regardless of whether you're visiting California on a budget or you're splashing out on that once in a lifetime trip, we have a range of cars and vehicles to suit every budget. For families and larger groups, we offer spacious and comfortable estate cars and 4x4s that give every family member their own space as well as additional space for bags and luggage. We also offer a selection of sports cars and convertibles, the perfect way to enjoy summer days in California.  We also have a number of optional extras available such as Sat Nav, which is ideal for first-time visitors to the area, and booster seats for those travelling with young ones. At Sixt, our range of insurance options includes options for drivers under the age of 25 and LDW waivers. When booking your car hire at San Francisco Int. Airport, simply choose the extras that you require and we'll confirm availability before you pick up your car hire at San Francisco Int. Airport.
Finding Sixt at San Francisco Int. Airport (SFO)
At the car rental centre, exit the building at ground level and turn left where you'll find Sixt's shuttle bus pick-up and drop-off point. The shuttle will take you to The Westin Hotel where you'll be able to pick up your car hire at San Francisco Int. Airport. San Francisco International Airport (SFO) is situated 13 miles from downtown San Francisco. The city centre is easily accessible via the US-101 N and the journey time from the airport takes approximately 19 minutes, depending on traffic. You'll find our car rental offices at the Westin Hotel Airport Hotel at SFO. To get to the airport, take the Airtrain's blue line to the car rental centre.
Exploring San Francisco and the Bay Area in your Car
Once you've picked up your car rental at San Francisco Int. Airport, you'll be able to head downtown and begin exploring one of American's most iconic cities. Be sure to view the art deco Golden Gate Bridge: there are car parks on either side of the bridge, perfect for snapping those all important holiday photos. Back in the city centre, take a trip to Chinatown and Fisherman's Warf, two of the best locations for foodies. As well as being a great area for walking, Chinatown is famous for its dim sum while Fisherman's Warf has a great selection of seafood restaurants to enjoy. Of course, the benefit of having a hire car is that you can drive around the city at your own pace, create your own tour, and enjoy all that this part of the USA has to offer.
Sixt Shuttle Bus Information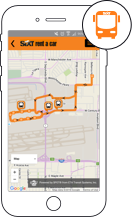 After picking up your luggage, please take the blue line of the Airtrain to the Car Rental Center. Once at the Car Rental Center, please proceed to the ground floor level then exit the building and proceed to your left. You will find a designated Off-Airport Shuttle Pick Up Area. Our Sixt Shuttle bus runs within our opening hours and will bring you to our branch. If you need any help, call us at +1-415-6589800, you can also live track the service here: Sixt shuttle tracker
Find out what our customers say about us!