Sixt Rental Services in San Francisco
Customize your car rental deal with a number of useful add-on's such as Sat Nav, additional driver insurance, a baby seat or further breakdown coverage. Hover over the below images to find out more about the extra services Sixt can offer you in San Francisco.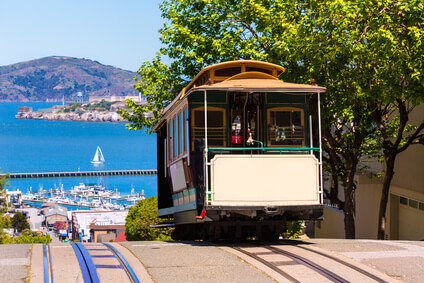 Drive in San Francisco with Sixt
San Francisco is full of a number of top tourist attractions. One sight that is on the bucket list of many is the Golden Gate Bridge, and what better way to experience it than by driving over it? Take a drive to San Francisco's most famous street and see the Painted Ladies, a row of picturesque Victorian houses that have featured in a number of films including Mrs. Doubfire! Lovers of nature will enjoy The Golden Gate park, or you could take a trip to the Twin Peaks where you will be spoiled with unrivaled views of the Bay Area. Take advantage of your car hire and drive on California's most famous coastal highway, Highway 1 and explore the small beach towns of Pacifica, Montara, and Half Moon Bay that you will pass through on your way. A car rental from Sixt will ensure that you travel around this California state with the utmost convenience.