Sixt car hire Miami
Our Service | Traffic Information | Sixt Tip | Sightseeing Destinations | Business Destinations | Rental FAQs
All nine of our branches are listed on the location menu. Expand each section using the right-hand arrows to reveal opening hours and fleet details. Return to the grey right-hand tab at the top of the menu to open a map giving an overview of the branch locations. For your convenience, our desk at Miami International Airport remains open 24-hours a day. You can compare our range of car classes on our vehicle category list before making a reservation. Reservation systems are straightforward with the booking hotline or by using our Sixt App for iOS and Android devices. Your chosen car rental in Miami category is guaranteed but please not we cannot reserve specific makes or models. Whether you want to hire a car in Miami for just a few hours, a weekend or longer you will receive the same warm welcome from our office staff.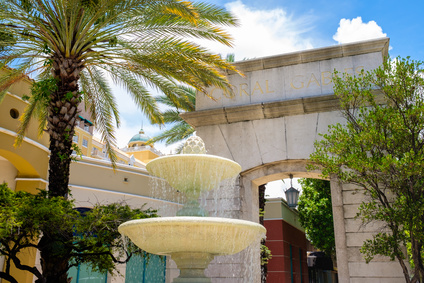 Our Service
Our car rental in Miami fleet contains premium vehicles that range from compact saloons and estates, ideal for city driving to larger 4x4s and minibuses. Luxury sports cars and convertibles are the perfect choices for cruising in the sun along Miami Beach and the Florida coastline. If you are moving home in the city or have large business materials or equipment to transport, six of our Miami branches also offer a useful selection of vans. Our car hire in Miami fleet is supplied by trusted names including BMW, Audi, Mercedes-Benz and Porsche. Rental cars adapted for different mobility needs are also available. Whether you are visiting Miami for business or leisure our range of affordable extras is designed to give you a stress-free driving experience. Sat Navs help you navigate Miami's streets while youngsters travel safely in our child seats. We also have special offers on unlimited mileage and extra insurance as well as welcoming additional and younger drivers.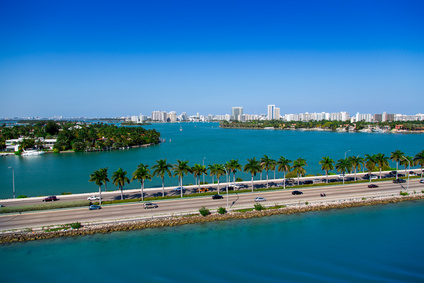 Traffic Information
When you arrive at Miami Airport take the MIA Mover Train to the Car Rental Centre where our desk is clearly signposted. Your drive to the city centre from both here and our Opa Locka Executive Airport branch will take approximately 20 minutes on the freeway. All our city and Miami Beach branches can be found close to Miami's extensive bus and Metrorail transport system or can be reached by taxi.
A car hire in Miami is the perfect way to get around the city. The roads are designed on a grid system and numbered by their distance from Downtown Miami. There are also four main expressways that cross the city and give you easy access to the rest of Florida. Miami road users have a reputation for being aggressive and fast drivers so using a Sat Nav or planning your route carefully will help take the stress out of your journey. Take care when leaving the freeways as exit points vary from left to right. If you do miss your exit it is easy to turn back on yourself at the next intersection.
With nearly 80 surface and multistorey car parks in Miami along with metered street parking you should always be able to find a space near your destination. If you prefer, most parking can be paid for by smartphone.
To get a feel for Miami's different districts take a drive around the city in your rental vehicle. The city centre or downtown Miami is the business and financial hub of the city with some of its oldest buildings. The huge Museum Park is located here. To the North is the artsy Design District with its galleries and the award-winning Haitian Heritage Museum. To glimpse Miami's elegant past head West to Coconut Grove and the Barnacle Historic State Park. Also evocative of Miami's past is the Venetian Pool in Coral Gables. This limestone quarry was turned into a swimming pool in the 1920's. Be sure to take your children to Miami Zoo where they can meet over 1,000 animals from around the world.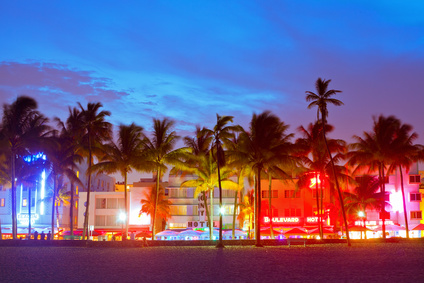 Sixt Tip
Miami's beautiful backdrop of sunshine and sea
If you have come to Miami for swimming and sunbathing then head to Miami Beach. Once a mangrove swamp it was cleared for coconut planting in the 19th-century before becoming a residential and resort area. Drive along Ocean Drive and admire the world's largest collection of Art Deco architecture before heading to sandy beaches backed by palm trees and the long Miami Beach Boardwalk, perfect for people watching and sunset strolls. Take a boat trip around Miami Beach and the Venetian Islands where the mansions of the rich and famous will be pointed out to you.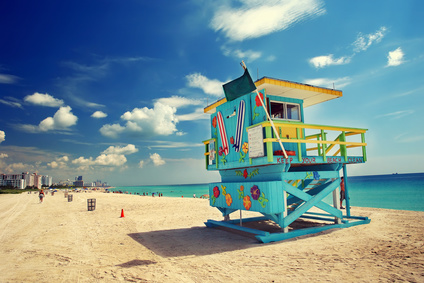 Sightseeing Destinations
Biscayne National Park provides a relaxing day out from the city and plenty of water based activities. This protected area covers mangrove shorelines, uninhabited islands and living coral reefs. The Dante Fascell Visitor Centre is a good place to start your visit and find out about the park. If you are lucky you might catch sight of some Atlantic bottlenose dolphins or gentle manatees.
Distances to the Dante Fascell Visitor Centre
From Miami International Airport: 34 miles, about 45 minutes
From our Miami Downtown branch: 38.5 miles, about 45 minutes
The Everglades Alligator Farm, where alligators and snakes can be safely viewed, is a sure way of getting up close to the wildlife of Florida. You can also enjoy a thrilling airboat ride through the Everglades.
Distances to the Everglades Alligator Farm
From Miami International Airport: 39 miles, about 50 minutes
From our Miami Downtown branch: 43.5 miles, about 50 minutes
The Museum of Discovery and Science in Fort Lauderdale is an educational and fun day out for the whole family. Take in its Everglades Adventure, river otters, fossil digging and interactive Storm Centre.
Distances to the Discovery and Science Centre
From Miami International Airport: 30 miles, about 35 minutes
From our Miami Downtown branch: 28 miles, about 30 minutes

Business Destinations
Miami is home to the largest concentration of international banks in the United States as well as being an important centre for medical and biotechnological research. It is also a busy seaport, receiving more cruise ships than any other port in the world. The refurbished and state-of-the-art Miami Beach Convention Centre sits next to the beach and hosts major conventions, exhibitions and sporting events.
Distances to the MBCC
From Miami Airport: 12 miles, about 20 minutes
From our Miami Downtown branch: 6.5 miles, about 15 minutes

Rental FAQs
Below are the quick answers to some of our most frequently asked questions. Please be reminded that every country has slightly different rules and regulations, so for the most specific and detailed information pertaining to your desired rental please visit our rental information page.
Can I hire a certain car model? If I'm not happy with my vehicle can I change it?
Do I have to pay a security deposit?
Which documents are needed to pick up the rental car?
What do the various insurance options cover?
Can I rent the car at one place and drop it off at another station?
Can I change my booking and do I have to pay a cancellation fee?
Does Sixt deliver rental cars?
Can I cross borders with my rental car?
What is Sixt's refuelling policy?