You can find out more about our service from our branch menu below, or click on the map tab to see exactly where in the city we are located. Suffice to say that you'll be choosing from the best when it comes to selecting your car rental in Denver. Although we can't promise a specific make when you hire a car online, our vehicles won't disappoint as they're manufactured by premium brands such as Mercedes, Toyota and Chevrolet. Whether you favour a convertible for a romantic weekend break, a 4x4 for a tour of the rugged Colorado scenery or a comfortable mid-range saloon for a business trip, our price comparison tools will get you an excellent deal.

Our Service
A car hire in Denver with us will seem even more attractive when you discover our selection of affordable extras. Subject to availability, these include practical options such as ski racks, winter tires and extended roadside protection, a must if you're heading into the mountains. And for those who like to stay connected on the go, our 4G internet offers GPS, a city guide and 60 minutes of international calls per day. All of these extras are available via our invaluable smartphone app, which you can also use to select a specific vehicle from our fleet of rental cars 30 minutes before pick-up.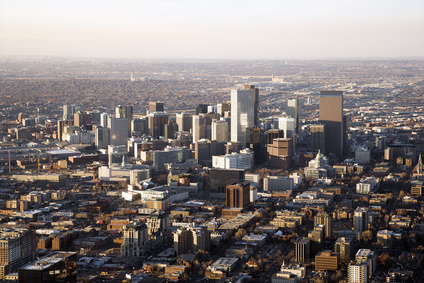 Traffic Information
Denver has a clear, logical layout which makes driving around the city in your car hire a genuine pleasure. Uptown Denver is divided into blocks and laid out on a grid system radiating out from Broadway and Ellsworth Avenue. The Interstate 25 freeway runs from North to South, taking you through the central business district and near many of the city's key tourist sites. Or for a trip to the Rockies, head east on Interstate 70.

Tip
As the largest city for 500 miles in any direction, it's perhaps no surprise that Denver has a wide-ranging cultural scene and humming night-life, plus some great neighbourhoods to check out with your rental vehicle. To the North-west of the city, the LoDo (short for Lower Downtown) area is an historic district bursting with over 70 restaurants, clubs and bars and as many trendy boutiques. Meanwhile Denver's award-winning Art District on Sante Fe is a hub of contemporary art galleries, modern dance companies and live performance centres. Denver also caters to sports lovers with stellar venues like the Coors Field baseball park and the Pepsi Centre arena, which hosts basketball, hockey and lacrosse.
Rental FAQs
You can find our FAQ pages here.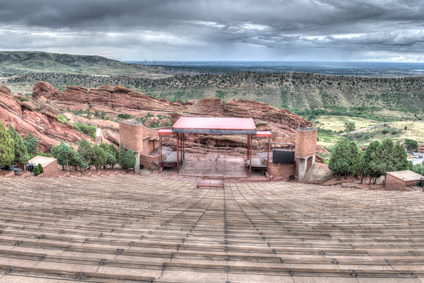 Sightseeing Destinations
The Denver Art Museum - or DAM - has become a major city landmark thanks to its iconic Frederick C. Hamilton building, a futuristic, titanium-panelled entrance hall designed by architect Daniel Libeskind. Inside, you can see works by important American artists like Georgia O'Keefe, Robert Motherwell, John De Andrea and Red Grooms. The museum also has nearly 20,000 pieces of Native American tribal artefacts, plus an impressive collection of British art including miniature portraits from the court of Elizabeth I.
Distance to the Denver Art Museum
From Denver International Airport: 27.3 miles, about 40 minutes
From Denver city centre: 1 mile, about 6 minutes
Just off Interstate 25, the Sport Authority Field at Mile High is home to the National Football League's Denver Broncos. This 77,000 seater arena also hosts major league lacrosse and college football, plus stadium concerts featuring A-listers such as Metallica, Guns 'n' Roses and Taylor Swift.
Distance to the Sport Authority Field at Mile High
From Denver International Airport: 25.2 miles, about 36 minutes
From Denver city centre: 2.2 miles, about 8 minutes
East of the central business district, City Park offers fountains, lakes, boat rentals and concerts among its varied roster of attractions. Situated within its sprawling 330 acres (and easily accessible with your car rental), you'll also find the Denver Museum of Nature and Science and the Denver Zoo, with its Primate Panorama, Feline House and Pachyderm Habitat.
Distance to City Park
From Denver International Airport: 22.4 miles, about 36 minutes
From Denver city centre: 2.4 miles, about 10 minutes

Business Destinations
Refurbished at cost of over $300 million in 2005, the Colorado Convention Centre is one of the premier destinations for trade shows in the Mountain States. All told, it boasts over 2 million square feet of meeting halls and conference chambers, including Denver's largest ballroom with space for 5000 guests. Striking architecture and art installations within and without make it a tourist destination in its own right, and it also has its own adjacent multi-storey parking. Boat, auto, snow sports and home and garden shows are among the 400-plus events taking place here annually.
Distance to the Colorado Convention Center
From Denver International Airport: 26.3 miles, about 32 minutes
From Denver city centre: 0.7 miles, about 3 minutes
The management company Digital First Media owns the Denver Post, plus a number of other newspapers in ten states right across America. Altogether it controls over 50 daily newspapers, including The Los Angeles Daily News. As a result it's one of the top newspaper groups in the USA, reaching nearly 70 million readers every day from its headquarters on Colfax Avenue.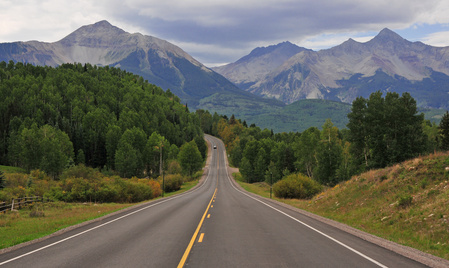 Distance to Digital First Media
From Denver International Airport: 26.7 miles, about 32 minutes
From Denver city centre: 0.4 miles, about 3 minutes