Sixt car rental in Montenegro
We have several airport, city centre and hotel branches in the country making it easy to collect your car rental in Montenegro. It is easy to find and book your car hire deals in Montenegro and, should you need to change your plans cancellations can often be made without charge. Read on to see some of the cities and sights that are within your reach with your car hire in Montenegro.
Our Service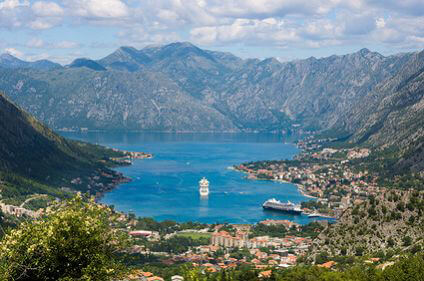 Our car hire in Montenegro fleet is supplied by premium brands like Mercedes-Benz, Audi and BMW. You can opt to rent a car in Montenegro that has an automatic transmission, select extras from our attractive range or organise one-way rentals. To do this, simply head to our bookings page.
Which car rental in Montenegro is right for me?
Compact cars are ideal for busy city centres.
If you are enjoying a weekend break or driving long distances then select comfortable saloons.
When looking for a little more leg room or more space for luggage then choose 4x4s or estate cars.
Enjoy the breeze in your hair on coastal drives in sports cars or convertibles.
Driver's licence
In Montenegro all driving licences are accepted. If your licence is in a non-Roman script, for instance, Cyrillic, Chinese or Russian then you also need an International Driver's Permit (IDP). An IDP can be obtained online or from the UK Post Office.
Age Restrictions
All drivers over 21 can take advantage of our car hire deals in Montenegro provided a full driving licence has been held for at least 2 years. Please be aware that a young driver surcharge is applied if you are under 23. Visit the booking engine for full details.
Credit Card Payment
Payment for your rental vehicle in Montenegro can be made using all major credit cards. We do not, however, accept prepaid or debit cards such as VISA Electron. The card must bear the driver's name and be accompanied by photo ID at vehicle pick-up.
Accidents
In the unfortunate event of an accident, the emergency services in Montenegro can be reached on 112.

FAQs
What is included in the price?
Can I rent a specific car model?
What documents do I need to rent a car?
What kind of insurance is necessary to rent a car?
Can I pick up a car and return it somewhere else?
Do I have to pay a deposit?

Driving Tips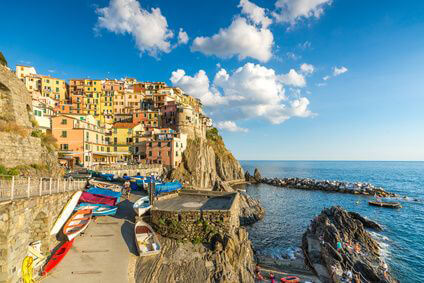 Montenegro is an ideal country to explore in a rental car with its mountainous scenery and stunning coastline but do expect a rather aggressive driving style from locals. Although road systems are gradually being improved there are no motorway-grade roads at the moment so always leave plenty of time for your journey, especially on steep mountainous roads with their hairpin bends. Always be prepared for potholed surfaces as well as animals and pedestrians on roads. The only toll stretch of road in Montenegro is through the Sozin Tunnel. Parking is generally easy to find in the country while there are clearly marked Pay and Display zones in cities.
More tips for enjoying driving in Montenegro:
Remember to drive on the right in Montenegro and that distances and speed limits are calculated in kilometres.
You should always give way to the right unless otherwise indicated.
Dipped headlights must be used during daylight hours.
Snow chains are compulsory in parts of the country during Winter months.
Children under 12 must travel in the rear of vehicles and we recommend all children use appropriate baby or booster seats.
It is advisable not to drive on unpaved surfaces. You will be charged for any rental vehicle damage.
Speed limits in Montenegro
Urban areas: 50 km/h
On national roads: 80 - 100 km/h
Traffic Infractions and on-the-spot fines:
Speeding and drink driving in Montenegro are taken extremely seriously and incur heavy penalties. Fines for traffic infringements vary from EUR20 to EUR6,000 with payment made at banks.

Places of Interest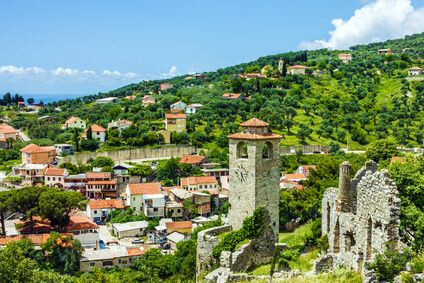 Top 4 Architectural Sites
Kotor Old Town
Ostrog Monastery
King Nikola's Castle, Podgorica
Vlah Church, Donji Kraj
The beautiful old town of Kotor is a UNESCO World Heritage Site. It is full of narrow streets and quaint balconies and is overlooked by an impressive fortress. Reaching Ostrog Monastery involves a mountain drive with breathtaking views. The monastery is built into the cliff and fronted by a stately facade. It sits one kilometre high above the valley. Exploring the capital city of Podgorica is always fascinating. Make sure to tour King Nikola's Castle with its historic collections. The 15th-century Vlah Church was built on the site of an ancient necropolis. A fascinating feature is the guard rail made up of Ottoman rifles captured during the Battle of Grahovac in 1858.
Top 4 Natural Sites
Lovcen Mountain
Boka Bay
Canyon Nevidio
Durmitor National Park
The Lovcen Mountain, rising majestically above Kotor, is one of Montenegro's sacred places. It is topped by a glacial lake holding the mausoleum of Petar II Petrovic-Njegos, a great ruler and poet. Boka Bay claims to be the most Southerly fjord in Europe. Edged by snow-covered mountains it is ringed by small villages and holiday resorts. The mysterious Canyon Nevidio takes a bit of effort to reach but it rewards you with its spectacular gorges and waterfalls. Durmitor National Park is an important reserve area and a UNESCO World Heritage Site. It features glacial lakes, mountain peaks and dense forests and is a centre for climbing, hiking and rafting.
Important Film locations
The spectacular mountain scenery of Montenegro makes the perfect backdrop for shooting films. The 1978 war classic Force 10 From Navarone starring Robert Shaw and Edward Fox made use of this mountainous setting. Starring Robbie Coltrane The Brothers Bloom (2008) was an American caper filmed at various locations in Montenegro while the recent spy thriller The November Man used the country as a stand-in for Switzerland. Premiered in 2014 Meet Me In Montenegro used several locations in the country including Budva, Perast and the Aerodrome Tivat at Mrcevac.
Crossing Borders
Your car hire in Montenegro has some cross-border restrictions. Provided you have written permission you can enter most East European countries as well as Italy, France and Germany. Further advice is available on our Rental Information page. Should you breach these restrictions your insurance coverage becomes invalid.