Sixt car rental in Jordan
We have car hire in Jordan branches at Amman Airport and in the city centre while pick ups can be arranged at selected hotels, ensuring your visit gets off to a stress-free start. Booking your car hire deals in Jordan is easy with our straightforward reservation systems and if your plans do change, cancellations are often free of charge. Take a look at the map above to see our suggestions of cities and attractions to visit with your car hire in Jordan.
Our Service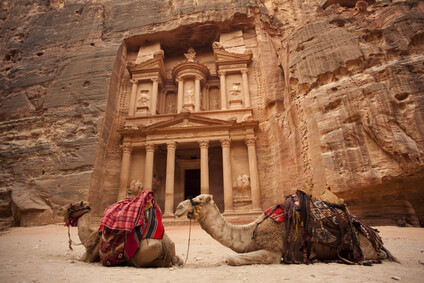 Sixt rental vehicles come from well-known and respected brands you can be sure of your ride. If you wish to rent a car in Jordan with automatic transmission, organise a one-way rental or select optional extras such as child seats then our bookings page has all the details.
Which car rental in Jordan is right for me?
Compact vehicles are perfect for city centres.
Cruise the Desert Highway in comfortable saloons.
Estate cars are ideal for families.
Explore the countryside in 4x4s that hold up to five people and their luggage.
Driver's licence
Both EU and international driving licences are accepted in Jordan but if they are in a non-Roman alphabet like Arabic, Russian or Cyrillic they must be accompanied by an International Driver's Permit (IDP). These can be obtained either online or from local Post Offices in the UK.
Age Restrictions
To rent a car in Jordan you have to be at least 21 and have held a licence for a year or more. Surcharges may apply for drivers under 25. For full details visit our booking engine.
Credit Card Payment
All major credit cards can be used to pay for your car hire deals in Jordan along with cash. VISA Electron and prepaid cards are not accepted.The credit card must be in the driver's name and photo ID presented when the rental car is collected.
Accidents
Should you encounter any problems in Jordan or have an accident with your rental vehicle call our Sixt hotline on +962-799063414. Emergency numbers in Jordan are 190 for police and 199 for ambulances. The international emergency number 911 can also be used.

FAQs
What is included in the price?
Can I rent a specific car model?
What documents do I need to rent a car?
What kind of insurance is necessary to rent a car?
Can I pick up a car and return it somewhere else?
Do I have to pay a deposit?

Driving Tips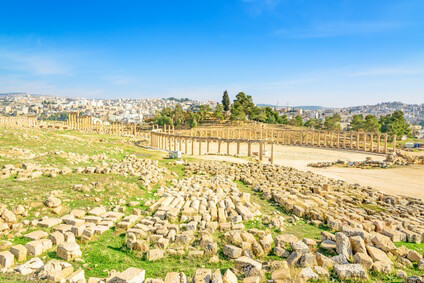 Jordan's main highways are generally well-maintained but be cautious of other drivers, especially after dark when some locals travel without headlights. The main route is the Desert Highway which connects the main cities including Amman and Aqaba. Watch out for the ever-changing speed limits which are strictly enforced. Drive with extreme caution away from the main highways where mountain roads have steep hairpin curves.
More tips for enjoying driving in Jordan:
Driving is on the right in Jordan and distances and speed limits are measured in kilometres.
Fuel prices are fixed in Jordan so will be the same in every garage.
There are no tolls in Jordan but main motorways do have passport control points.
Child seats are only mandatory for children under 4.
Parking can be tricky in the capital city Amman but easily found elsewhere.
If your Sixt vehicle is damaged by being driven off paved surfaces you will be charged in full for any repair costs.
Speed limits in Jordan
Residential areas: up to 60 km/h
National roads: 80 km/h
Motorways: 120 km/h
Traffic Infractions and on-the-spot fines:
Jordan has zero tolerance for driving under the influence of alcohol. On-the-spot fines for speeding or failing to wear a front seat belt range from 15 to 150 Jordanian Dinars.

Places of Interest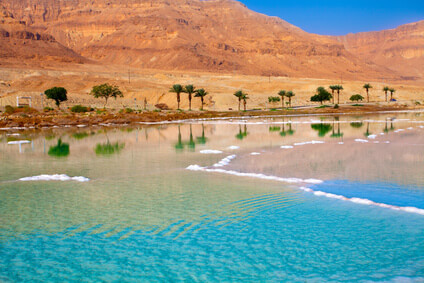 Top 4 architectural sites
Al-Khazneh or The Treasury at Petra
Amman's Roman Amphitheatre
The Jerash Ruins
Al Beidha
The archaeological ruins at Petra are a must-see for anyone visiting Jordan. Al-Khazneh is one of the most elaborate temples in Petra's ancient Nabatean Kingdom City. This elaborate structure is carved out of the sandstone rock face. The 6,000 seater Roman Amphitheatre at Amman dates back to a time when the city was known as Philadelphia. Today it is still used as a concert venue. The city of Jerash was destroyed by an earthquake in the 8th-century and it remained buried under sand until its rediscovery in 1806. Visitors can see remarkably complete remains dating as far back as the Bronze Age. Al Beidha is a UNESCO World Heritage Site of Neolithic archaeology.
Top 4 Natural Sites
The Burdah Bridge
Wadi-al-Mujib
The Dead Sea
Siq at Petra
Visitors can enjoy a breathtaking hike to the Burdah Bridge at Wadi Rum. Here a seemingly fragile rock bridge sits 300m above the ground. For those who dare to stand on the top, it makes a fantastic photo opportunity. The Wadi-al-Mujib is an underground river that runs into the Dead Sea. Today the area is an important UNESCO Biosphere Reserve full of wild plants, mammals and migratory birds. No visit to Jordan is complete without a dip in the Dead Sea. Lying 400m below sea level the high saline content of the sea makes floating easy while the mineral-rich black mud is used for beauty and therapeutic treatments in resort spas. Siq or Siqit is the main entrance to Petra. This natural geological fault worn smooth by water erosion provides a narrow gorge of 1.2km that ends at the Al-Khazneh. It provided the perfect defensive entrance to the Nabatean settlement.
Important Film locations
The stark landscape of Jordan and the ruins of Petra lend themselves naturally to film settings. Indiana Jones and the Last Crusade (1989), Sinbad and the Eye of the Tiger (1977) and the Mummy Returns (2001) are just a few of the films that have used the spectacular ruins of Petra. Wadi Rum or the Valley of the Moon has an orange landscape that attracts science fiction film-makers. Much of David Lean's Lawrence of Arabia (1962) was filmed here while Ridley Scott's The Martian (2015) turned it into Mars. In Rogue One: A Star Wars Story Wadi Rum became Jedha.
Crossing Borders
No cross border rentals are allowed. If cars are taken across a border all insurance becomes invalid.