Hire an Audi - Sixt rent a car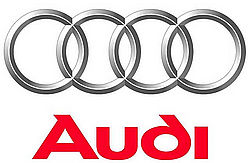 If you choose an Audi car hire with Sixt, you can be certain that there will be no compromise on quality. Enhance your business trip or holiday in a vehicle that is the pinnacle of German engineering - providing you and your passengers with a smooth, comfortable journey. Here at Sixt we pride ourselves on offering only the finest rental vehicles, which is why we replace each one after six months of service. Soon you could be navigating your destination in a brand new, high quality Audi hire car from Sixt.
Experience an Audi Car Hire with Sixt
Famous for the slogan Vorsprung durch Technik, (Advancement through Technology), Audi are today one of the world's most trusted and reputable brands, and a byword for quality cars. The first Audi car was finished in 1910 and despite a 25 year disappearance from the market during the recession and the war years, the company returned in 1965 after a merger of four car companies. In 1966, Audi was acquired by the Volkswagen Group and have gone on to become pioneers in automotive engineering. Sixt are proud to offer Audi car hire to our customers. Find out about each of our versatile Audi models so that you can select the ideal rental for your trip.
Sixt Audi Hire Services
With Sixt Luxury Hire Cars, all you need is select the perfect model and we'll handle the rest. However, please bear in mind that Sixt cannot guarantee the availability of an Audi car rental. In the situation of a lack of availability, an equivalent car hire from the same category will be provided.