Sixt car rental in Sri Lanka
We have two Sixt car hire in Sri Lanka branches, located at the airport and in the heart of the capital Colombo ensuring that your visit gets off to a stress-free start. You will find booking your car rental in Sri Lanka quick and easy while cancellations are often free of charge should your travel plans change. Read on for some of the attractions we recommend visiting when you rent a car in Sri Lanka.
Our Service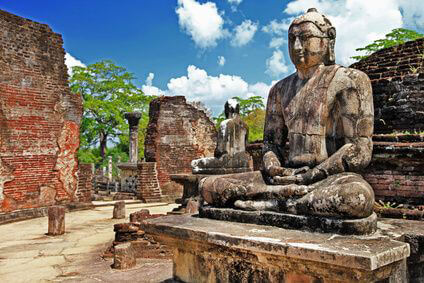 Your Sixt car in Sri Lanka is provided by trusted brands and should you wish to rent a car in Sri Lanka with an automatic transmission or organise one-way rentals visit our bookings page. Here you can also add optional extras to your reservation.
Which car hire in Sri Lanka is right for me?
Explore the historic capital in compact vehicles.
Enjoy motorway driving in comfortable saloons.
Fit parties of up to 5 people along with luggage into spacious estates or 4x4s.
Cruise around coastlines in luxury sports cars or convertibles.
Driver's licence
Sri Lanka accepts all driving licences but every licence has to be validated by the Automobile Association in Sri Lanka. We can obtain this prior to your arrival on receipt of driving licence and passport copies and the payment of a surcharge. Alternatively, you can do this in person on arrival during weekday office hours.
Age Restrictions
The minimum age for driving a Sixt car hire in Sri Lanka is 23 along with possession of a valid driving licence for 2 years. Surcharges apply for drivers under 25. Find full details on our bookings page.
Credit Card Payment
You can pay for your car hire deals in Sri Lanka with all major credit cards but prepaid and debit cards such as VISA Electron are not accepted. Cards must be in the driver's name and accompanied by photo ID.
Accidents
Should you have an accident with your rental vehicle while in Sri Lanka report it to the police on 119. Other emergency services can be reached on 110.

FAQs
What is included in the price?
Can I rent a specific car model?
What documents do I need to rent a car?
What kind of insurance is necessary to rent a car?
Can I pick up a car and return it somewhere else?
Do I have to pay a deposit?

Driving Tips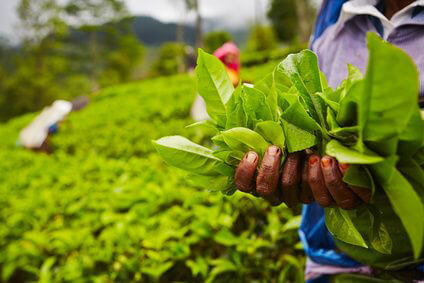 Driving in Sri Lanka can appear to be slightly hectic with drivers swerving to avoid each other and poor road surfaces. Also, expect to see pedestrians and animals on roads, taking particular caution at night as most rural roads are unlit. Steep mountain roads with sharp bends also need to be approached cautiously. Sri Lanka is gradually expanding its motorway network which is improving island communication and reducing journey times but construction work can cause delays.
More tips for enjoying driving in Sri Lanka:
Drive on the left in Sri Lanka and note that Kilometres are used to measure distances and speed limits.
Unless otherwise indicated always give way to the right.
You will find toll booths on new motorways. Fees are paid in cash.
Sri Lanka does not require children to travel in baby or booster seats. We recommend, however, that all children under 14 travel in appropriate restraints.
Parking can be fairly haphazard in Sri Lanka but is generally free at the roadside. There are also paved car parks where charges are made while multistory car parks are beginning to appear in larger cities.
You will be charged for any repair costs incurred if you drive your rental car off a paved surface.
Speed limits in Sri Lanka
Residential areas: 56 km/h
National roads: 72 km/h
Motorways: 120 km/h
Traffic Infractions and on-the-spot fines:
Be aware that breathalysers are rarely used in Sri Lanka. If a police officer suspects you have been drinking you will be taken for a blood test which can be a time-consuming process. In an attempt to combat corruption on-the-spot fines are no longer issued. You will be given a ticket and instructions on where to pay your fine.

Places of Interest
Top 4 Architectural Sites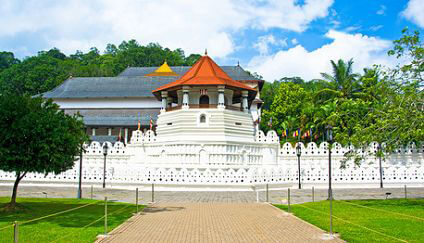 Sri Dalada Maligawa or Temple of the Tooth at Kandy
Galle Fort
The National Museum of Colombo
The Polonnaruwa Vatadage
The Sri Dalada Maligawa is the most sacred spot in Sri Lanka and holds a tooth of Buddha. With its wave walls and gold detailing this World Heritage Site is a beautiful attraction. Located on the South-West coast of Sri Lanka is the Galle Fort originally built by the Portuguese in the 16th-century. Set in an impressive British colonial house is the National Museum of Colombo with its vast collections documenting the country's history. The Polonnaruwa Vatadage is a strange looking building that possibly dates back to the 12th-century. It is a circular structure built to protect a religious stupa and features ornate stone carvings.
Top 4 Natural Sites
Yala National Park
Adam's Peak
Sinharaja Forest Reserve
St Clair's Falls
Yala National Park is the most visited in Sri Lanka. Its ecosystems cover everything from monsoon forest to marine wetlands and it is home to Sri Lankan elephants and leopards. Adam's Peak is a sacred mountain that lies at the heart of the island. This conical mountain is important to several major world religions and offers visitors a variety of pilgrimage trails. Although small in area, the Sinharaja Forest Reserve is a real treasure trove of indigenous flora and fauna including elephants and leopards although these stay well out of sight. The six cascades of St Clair's Falls are often referred to as Sri Lanka's Niagara Falls. The falls are on the Kotmale River and run through a tea estate.
Important Film locations
Denied permission to film in North India the 1984 adventure film Indiana Jones and the Temple of Doom relocated to Kandy in Sri Lanka. The epic British TV series of 1986 Lord Mountbatten: The Last Viceroy was shot entirely on location in the country. The Second Jungle Book: Mowgli & Baloo a 1989 American adaptation of Rudyard Kipling's Jungle Book was filmed in the forests of Sri Lanka.
Crossing Borders
Rental cars may not be taken off the island of Sri Lanka. Attempting to do so invalidates your insurance.