Your Guide to Sixt Car Hire in Palma de Mallorca
Our Service | Traffic Information | Sixt Tip | Sightseeing Destinations | Business Destinations | Rental FAQs
Click on the right-hand tab to reveal where our car hire in Palma de Mallorca branches are located while the left-hand tab opens a drop-down menu with their exact addresses and opening hours. For your convenience, our branch at Mallorca Palma Airport has extended hours. To see how affordable it is to hire a car with us simply compare our various vehicle types to see what's best for you. Use our Sixt iOS and Android apps to make your booking or call our dedicated reservation number. We guarantee your car rental in Palma de Mallorca category but cannot do so for specific models. Whether you need your vehicle for one hour, a weekend or longer you can be sure of a warm welcome from our Palma de Mallorca staff.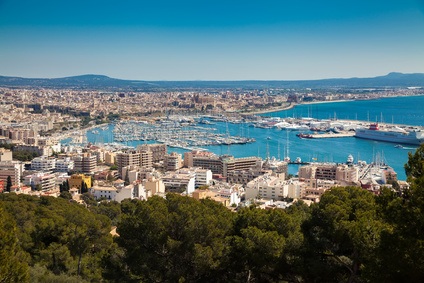 Our Service
Our car hire at Mallorca Playa de Palma/El Arenal branch has a premium fleet of rental cars that range from economy saloons to larger estates and minibuses that are perfect for family holidays. Enjoy exploring the island's countryside in a spacious 4x4 or head to the coast in luxurious sports cars or convertibles. At Mallorca Palma Airport and Mallorca Poligono Son Oms we also have trucks available, ideal if you have exhibition or conference materials to transport. Our rental vehicle fleet caters for all party sizes and budgets with cars supplied by trusted names that include BMW, Mercedes-Benz, Audi and Porsche. We also have vehicles adapted to meet different mobility needs. Select from our attractive range of extras when you book your car hire in Palma de Mallorca. Sat Navs help you explore the island or choose from child seats, additional drivers, extra insurance and unlimited mileage packages. We are always happy to welcome drivers under 25.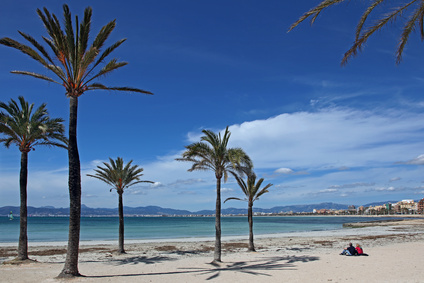 Traffic Information
Mallorca Palma Airport is located 7 miles East of the city centre and our clearly signposted desk is located in the baggage claim area of the arrivals hall. Our beachside Mallorca Playa de Palma/El Arenal office is located near the Royal Cupido Hotel while the Mallorca Poligono Son Oms branch is an easy taxi ride from either the airport or the town centre.
Palma de Mallorca is at the heart of the island's road system making it the ideal base for a holiday. The city itself gets very congested during peak holiday times and during rush hours while away from the city conditions for driving vary from narrow cobbled streets to modern motorways. Spanish driving regulations say that children under 12 must not ride in the front seats of vehicles.
Parking in Palma de Mallorca and across the island is a mix of free and metered street parking as well as public car parks. A quirk of the island is its Limited Time Parking system. Here you have to record your arrival and planned departure times and place this in a clearly visible position on the dashboard. Be sure to return to your car before the specified time to avoid a penalty.
Take a drive around the city to get your bearings and locate its main attractions before finding a parking spot and exploring the historic centre on foot. As you stroll peek into the pretty flower-filled courtyards of the houses. Mallorca Cathedral is a spectacular building which appears to rise out of the sea. It boasts one of the biggest glass windows in the world and a canopy designed by Antonio Gaudi. The 10th-century Banys └rabs or Arab Baths provide a striking architectural contrast and make a fascinating tour. Children always enjoy a visit to Marineland with its collections of sharks, tropical fish, exotic iguanas, flamingos and penguins or spend a day relaxing on one of the town's sandy beaches.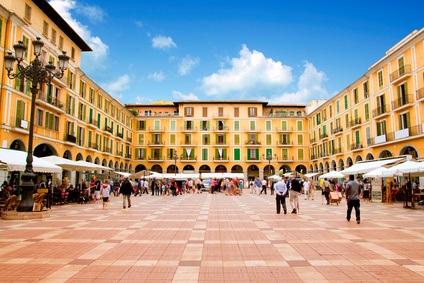 Sixt Tip
Palma de Mallorca's Varied Architecture
A unique feature of Palma de Mallorca has to be the contrasting architecture that documents its historic past. We have already mentioned the Cathedral and the Arab Baths but also worth a visit is the imposing Bellver castle that dominates the town. This castle has been the refuge of kings fleeing Europe, as well as a prison and military fort but today it is home to Palma de Mallorca's museum. Also rising above the city is the Palace of Almudaina, one of the oldest buildings on the island. Originally an Arab fortress it became a royal residence in the 14th-century and is worth a visit for the artworks and treasures it holds.

Sightseeing Destinations
No one, whatever their age, can fail to be impressed on a day out at the Aqualand Waterpark. This is one of the largest water funfairs in the world with thrilling flumes and wave machines as well as a mini zoo and children's farm.
Distances to Aqualand Waterpark
From Mallorca Palma Airport: 5 miles about 10 minutes
From our Mallorca Playa de Palma Branch: 4.5 miles, about 10 minutes
Take a leisurely drive to the small town of Sˇller on the North West coast of the island. This pretty town is surrounded by shady groves of oranges, lemons and olives. The area is popular for hiking and cycling while the town's church of Saint Bartholomew was designed by one of Gaudi's students. The Port de Sˇller, 2.5 miles, is also worth a visit.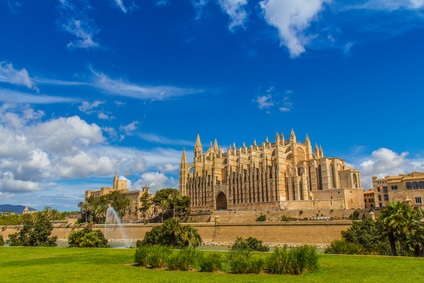 Distances to Sˇller
From Mallorca Palma Airport: 22 miles, about 45 minutes
From our Mallorca Playa de Palma Branch: 23.5 miles, about 45 minutes
Immerse yourself in a subterranean world at the Dragon Caves. These enormous caves near Porto Cristo contain the underground Lake Martel, beautiful turquoise waters in the Baths of Diana and intriguing rock formations. A tour of the caves is made by boat.
Distances to the Dragon Caves
From Mallorca Palma Airport: 39 miles, about 50 minutes
From our Mallorca Playa de Palma Branch: 38.5 miles, about 50 minutes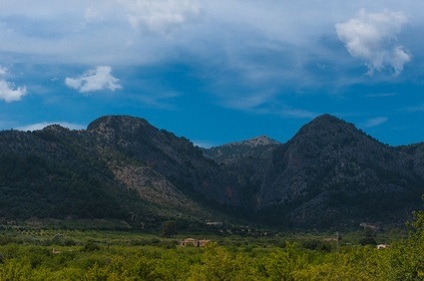 Business Destinations
Like all of the Balearic Islands, tourism is the most important economic sector for Mallorca and Palma de Mallorca employing over 30% percent of the working population. Other smaller economic areas include citrus production and a recent revitalising of the island's wine industry. The Playa de Palma Auditorium is a modern, purpose-built centre with an annual programme of conferences, trade shows, exhibitions and performances.
Distances to the Playa de Palma Auditorium
From Mallorca Palma Airport: 7 miles, about 25 minutes
From our Mallorca Playa de Palma Branch: 8 miles, about 30 minutes

Rental FAQs
Below are the quick answers to some of our most frequently asked questions. Please be reminded that every country has slightly different rules and regulations, so for the most specific and detailed information pertaining to your desired rental please visit rental information for more information.
Can I hire a certain car model? If I'm not happy with my vehicle can I change it?
Do I have to pay a security deposit?
Which documents are needed to pick up the rental car?
What do the various insurance options cover?
Can I rent the car at one place and drop it off at another station?
Can I change my booking and do I have to pay a cancellation fee?
Does Sixt deliver rental cars?
Can I cross borders with my rental car?
What is Sixt's refuelling policy?