Sixt car hire Johannesburg
Our Service  |  Traffic Information  |  Sixt Tip  |   Sightseeing Destinations  | Business Destinations |  Rental FAQs  
Our Johannesburg branches are all listed on our homepage. Right-hand arrows open drop-down menus giving you brief overviews of car rental locations and fleet details. Clicking on the grey right-hand tab at the top of the page opens a map pinpointing their city locations. Our car rental desks at Johannesburg Tambo Airport, Park Station and Johannesburg Sandton are open seven days a week while the airport office remains open 24-hours a day for your convenience. Please note that apart from Johannesburg Airport our branches do not offer 24-hour return facilities. To see how affordable it is to hire a car with us browse our various vehicle types to see the comparison in prices. Reserving your car hire in Johannesburg is easy, just use our booking hotline or download the Sixt apps for iOS and Android devices. While your chosen category of car rental in Johannesburg is guaranteed we cannot do the same for specific makes but we do guarantee a warm welcome from our knowledgeable and friendly office staff whether you need rental cars for one weekend or longer.
Our Service
All eight of our car rental in Johannesburg branches have a premium fleet of compact saloons and family-sized estate cars perfect for exploring the city and surrounding districts. Every branch except Roodepoort also offers a selection of rugged 4x4s, ideal for heading off to nearby nature reserves while for a real touch of luxury we have sports cars and convertibles available at Johannesburg Park Station. Whichever vehicle you choose is supplied by a trusted name such as BMW, Mercedes-Benz, Audi or Porsche. We also offer vehicles adapted to meet different mobility needs. To ensure you have smooth and stress-free driving with your car hire in Johannesburg we have a range of optional extras to choose from. Navigate busy city streets with a Sat Nav while our E-Toll Service makes using the motorways easy. Keep younger family members safe in your car hire with our baby and booster seats. We always have great deals on extra insurance, additional drivers and unlimited mileage options and are happy to insure rental cars for younger drivers under 25.

Traffic Information
At Lanseria and Johannesburg Tambo International Airports our desks are clearly signposted in the arrivals hall while at Park Station we are on the Mezzanine shopping level. Both airports are around an hour's drive from the city centre on fast motorways. Whether located in the city centre or the suburbs of Roodepoort, Boksburg or Kempton Park our branches can be reached by the suburban rail and Gautrain networks, the Metro-Rail system or taxis.
Although the locals like to drive fast, driving in Johannesburg is fairly straightforward and made even easier if your rental vehicle has a Sat Nav. The Sandton area, in particular, becomes very congested during morning and evening rush hours. Take advice from your hotel reception or our car hire desks on safe driving in the city and remember to keep your vehicle doors locked, especially after dark. Driving is on the left as in the United Kingdom.
Johannesburg has been rolling out a well-managed paid street parking system in recent years while some public attractions and shopping malls have their own parking. Do not be tempted to leave vehicles in unsecured areas.
Johannesburg is a huge city so a rental vehicle helps you make the most of its attractions. The Central Business District at the heart of the town has undergone a recent regeneration and is home to several fascinating museums and galleries such as the Johannesburg Art Gallery, the biggest on the continent. The Northern suburbs are home to the Planetarium with hands-on activities for all ages while to the West is the township of Soweto with the Mandela Family Museum. Once a no-go area Soweto now attracts tourists with its guided tours or simply drive around using the excellent new signage. When you are ready for some shady relaxation the Walter Sisulu Botanical Gardens are an excellent place to stop for a chilled drink and some lunch while you try and spot the endangered Black Eagles that make their home there.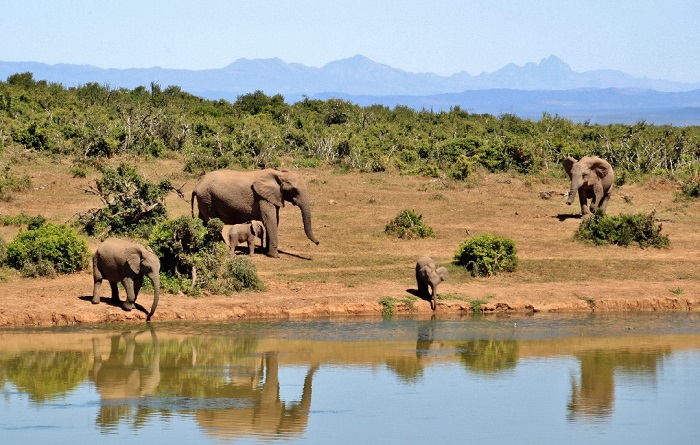 Sixt Tip
Enjoy Safaris Near Johannesburg
The countryside around Johannesburg may not be home to lions and cheetahs but you do not have to drive more than 30 minutes North of the city centre to get up close to these wonderful animals. Enjoy driving yourself through the game park where antelope, zebra, giraffe and wildebeest live in safe surroundings before enjoying a guided tour of the lion enclosures in secure safari vehicles. And, the highlight of any visit whatever your age will be stroking the lion cubs or taking a cheetah walk. This is the perfect introduction to South Africa's wildlife.

Sightseeing Destinations
The Suikerbosrand Nature Reserve provides a day's escape from the city bustle. Here you can hike through the mountain ranges of the Rocky Highveld Grasslands while keeping an eye out for the local flora and fauna.
Distances to the Suikerbosrand Nature Reserve
From Johannesburg Airport: 31.5 miles, about 1 hour
From Park Train Station: 30 miles, about 50 minutes
Johannesburg's wealth originally came from gold mining. Find out about its mining heritage at the Kromdraai Gold Mine, one of the first in the region.
Distances to the Kromdraai Gold Mine
From Johannesburg Airport: 58.5 miles, about 1 hour 10 minutes
From Park Train Station: 25 miles, about 1 hour 10 minutes
Set in a replica of an early mining town, Gold Reef City has over 30 rides for thrill seekers of all ages to enjoy as well as cinemas, theatres and themed restaurants.
Distances to Gold Reef City
From Johannesburg Airport: 21 miles, about 45 minutes
From Park Train Station: 5 miles, about 25 minutes

Business Destinations
Although forming the foundation of the Witwatersrand economy gold mining was gradually replaced by heavy steel and cement industries. Johannesburg is home to the world's largest "dry port" with the huge container terminal at City Deep. Today the city is also the economic hub of South Africa and one of the world's leading financial centres. The Sandton Convention Centre is a huge multi-use complex of exhibition, conference and entertainment spaces.
Distances to the Sandton Convention Centre
From Johannesburg Airport: 14 miles, about 45 minutes
From Park Train Station: 9.5 miles, about 30 minutes

Rental FAQs
Below are the quick answers to some of our most frequently asked questions. Please be reminded that every country has slightly different rules and regulations, so for the most specific and detailed information pertaining to your desired rental please visit our rental information page.
Can I hire a certain car model? If I'm not happy with my vehicle can I change it?
Do I have to pay a security deposit?
Which documents are needed to pick up the rental car?
What do the various insurance options cover?
Can I rent the car at one place and drop it off at another station?
Can I change my booking and do I have to pay a cancellation fee?
Does Sixt deliver rental cars?
Can I cross borders with my rental car?
What is Sixt's refuelling policy?