Sixt car rental Romania
Our Service  |  FAQs  |  Driving Tips  |  Places of Interest  | Crossing Borders
You can find Sixt car hire in Romania at 16 different locations, including one conveniently located at Bucharest Airport. Please see our branch menu for all our branch locations. We hope this travel guide will help you get the most of your stay by explaining some of the driving conditions and traffic laws. We've also included a handy map highlighting several of the main sights and tourist attractions you can discover with a car rental in Romania.
Our Service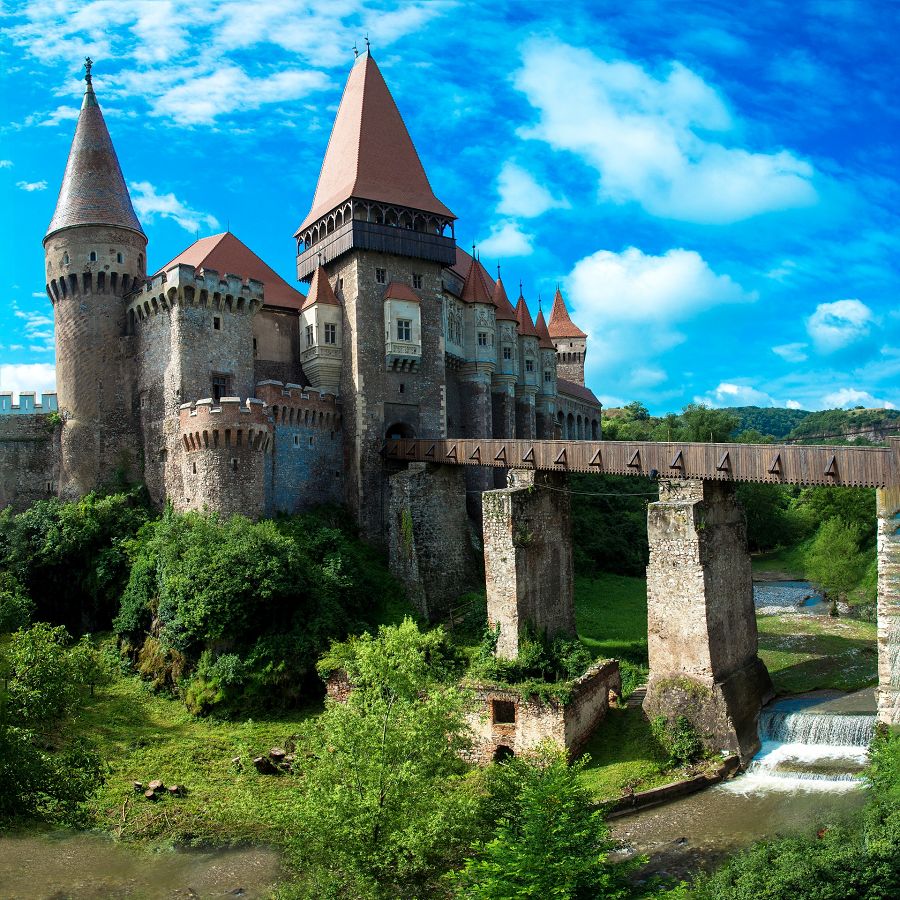 Sixt's car hire deals in Romania all come with 900 free kilometres, no matter which vehicle category you choose. Families can take advantage of a spacious estate or 4x4, while parties of friends may opt to hire a minibus. Alternatively, choose an economy model to make your holiday budget go further, or travel in style with a luxury make such as BMW or Mercedes-Benz.
Your car hire in Romania can also be tailored to suit your needs with our range of optional extras, which you can book when you reserve your rental car. If you're here for the skiing, you can include snow chains or a ski rack. Child seats are a wise option if you're travelling with children, as those under 12 are not allowed to travel in the front of the car and must be properly restrained. If you're new to the area, you may also want to add Sat Nav. Our full range of extras can be explored when you book your rental vehicle.
Credit Card Bookings
It's quick and easy to book your car rental in Romania by credit card. We accept all major cards including Visa, Eurocard/ Mastercard and American Express. We aren't able to accept prepaid or debit cards such as Visa Electron. Please note that if you are reserving a car from categories FDMR, FDAR or PFAR you will be required to produce two credit cards.
Driving Licence Requirements
To rent a car in Romania you will need a valid driving licence and passport or ID card. If the driver is different from the person hiring the car, they will need to show the same documentation. Corporate customers will also need to provide a VAT number. If your home country is not part of the Geneva/ Vienna Convention on Road Traffic you will also need supply a Self Translation Form, which Sixt can provide you with, along with your original driving licence.
Age Restrictions
To hire a car in Romania you must be aged 18 or over and have held your licence for at least one year. However, drivers aged under 25 will have to pay a daily surcharge to rent certain categories of car.
Accidents
If you are involved in a traffic accident while driving in Romania, you can contact the police, ambulance and fire services by calling 112 from any telephone including mobile, free of charge.

FAQs
What is included in the price?
Can I rent a specific car model?
What documents do I need to rent a car?
What kind of insurance is necessary to rent a car?
Can I pick up a car and return it somewhere else?
Do I have to pay a deposit?

Driving Tips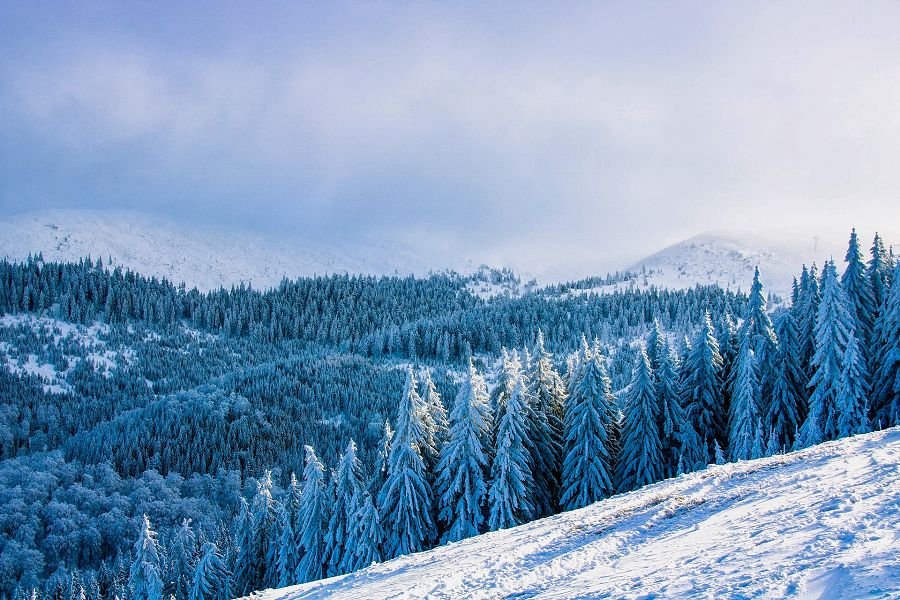 Driving is on the right in Romania, and priority is given to traffic coming from the right, except at roundabouts.
Speed Limits
Speed limits are measured in kilometres per hour, and are 50 km/h in towns and cities, and 90 km/h in more rural areas. You can drive 100 km/h on dual carriageways and 130 km/h on the motorway.
Traffic Laws
You should carry your driving licence, rental contract and proof of ID such as your passport with you when driving in Romania. The alcohol limit for driving in Romania is zero, and you can be stopped at random and breathalysed. The police can impose on-the-spot fines for driving offences, and they have the right to suspend your driving licence, even if you're from another country. You will only be allowed to collect your licence when you're leaving the country, and you will have to provide proof of departure.
Parking
You can only park on the right hand side of the road, as close to the pavement as possible. If you remain stationary for longer than five minutes you are considered to have parked. Parking illegally incurs a fine, and you may have your vehicle clamped or towed away.
Major Routes
Much of Romania's motorway network is still under construction, so many areas of the country have to be accessed using European routes and National Roads, most of which are dual carriageways. The road network radiates outwards from the capital, Bucharest, with seven of the major National Roads originating here.

Places of Interest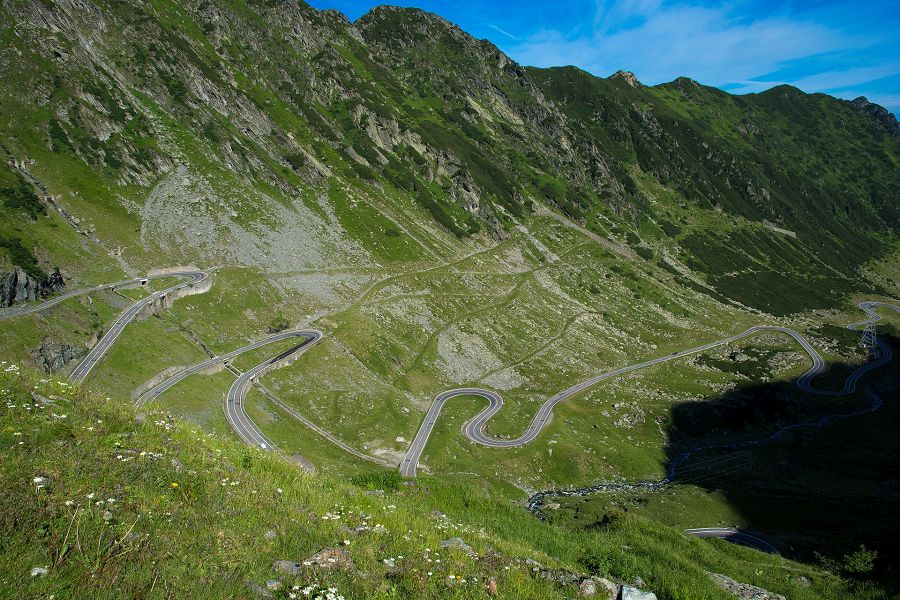 Top 4 Architectural Sites
Wooden Churches of Maramures
UNESCO World Heritage Site of the Old Town of Sighisoara
Palace of the Parliament Bucharest
Villages with Fortified Churches in Transylvania
Maramures is a mountainous, forested region in the north of the country, containing a famous collection of steepled wooden churches. The medieval Old Town of Sighisoara features fortified walls, narrow winding streets and pastel coloured buildings. The Palace of the Parliament, in Bucharest, opened in 1997. This Neo-Classical inspired building is the second largest administrative building in the world. Transylvania is home to seven villages in close proximity to each other, each containing a fortified church dating back to the Middle Ages. The area is now a UNESCO World Heritage Site.
Places of Natural Beauty
Danube Delta
Carpathian Mountains and Muntii Maramuresului Nature Park
Libearty Bear Sanctuary Zarnesti
Balti Steppe
The Danube Delta is the best preserved river delta in Europe, and one of Romania's top tourist attractions due to the amount of wildlife it attracts. For stunning mountain views, visit the Carpathian Mountains and Muntii Maramuresului Nature Park. The Libearty Bear Sanctuary is home to over 70 bears who have been rescued from cruel lives being used as tourist attractions. This sanctuary in Zarnesti provides them with a natural habitat. Situated in Moldova, the Balti Steppe is a hilly region mainly used for agriculture, also containing a variety of lakes and creeks.
Film Locations
Romania has provided the settings for a variety of blockbuster movies in recent years. The village of Glod was the title character's home town in the 2006 film Borat. The 2003 smash hit Cold Mountain was mainly filmed in the Carpathian Mountains and Potigrafu. The Academy of Sciences building in Bucharest was used as the main location for Mirrors in 2007, while Bucharest and the Carpathian Mountains doubled for war-torn Sarajevo in 2010's The Whistleblower.
Crossing Borders
Rental cars can be used to cross the borders from Romania into the following countries: Bulgaria, Hungary, Greece, Turkey, Austria, Germany, Switzerland, Czech Republic, Montenegro, Croatia, Poland, Slovenia and Slovakia. However, car categories FDMR, FDAR and PFAR cannot be taken out of Romania. A foreign use charge will apply for any border crossings, and you must obtain permission from the Sixt branch where you hired your car before you use it to cross any borders.