Offer mobility with the Sixt rental car voucher.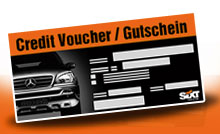 Give someone the gift of a mobile dream!
Whether it's a convertible, offroader or luxury limousine, the Sixt rental car voucher is an extremely original gift idea.
You can choose between a voucher worth any amount you want or a weekend voucher for one of our chic convertibles or one of our offroaders.
The vouchers can be redeemed for any Sixt rental car.