March is a great time to travel. With warm weather approaching and less tourism you can see many places at affordable rates. We've gone through some ideal holidays perfect for a quick escape. From cities to mountains and sunny beaches, there's something for any mood. Feel inspired and take an adventure to one of these fantastic destinations.
---
City Escapes
1. Dublin
Temperature: 10°C high; 3°C low
How to get there from the UK: 1 hour flight; 2-hour 15-minute ferry from Holyhead
Why travel in March: Celebrate St. Patrick's Day on the 17th
Starting a little closer to home, there are a lot of great reasons to visit Dublin, the Republic of Ireland's capital. March though is a particularly special time to visit one of the liveliest and friendliest cities in the world. On March 17th, the city celebrates St. Patrick's Day in spectacular fashion. Aside from ensuring you take in some trad folk at one of the many bars with a pint of the black stuff, there are many other great things to see and do.
You could follow a Dublin Port podcast walking tour or take in the sights and sounds of the St Patrick's Festival Parade that stretches out over two miles across the city. As you can imagine, on Ireland's most special day the celebrations don't just take place on the 17th, but rather there are events and activities throughout the weekend.
If you are looking to escape the madness, you could always opt for a beautiful country manor like The K Club. Located just 30 minutes outside of the capital, you can enjoy 5-star luxuries as well as horseback trails through 550 acres and specially hosted whiskey tastings. It's a far cry away from the wilder side of life for which Dublin is famous.
SIXT's top tip: Treat yourself to one of Dublin's most stylish secrets. Hidden in the famed Temple Bar is another classy establishment. Find the speakeasy hidden within for a night of vintage fun and cocktails.
2. Sofia
Temperature: 12°C High; 0°C Low
How to get there from the UK: 3-hour flight
Why travel in March: No crowds and cheaper prices for an already inexpensive city
The Bulgarian capital may not be the first place you think of when looking at holiday destinations with a bit of warmth in March. However, given the country's reputation as a tourist-friendly place and its moderate climate, there are several historically significant churches and other important buildings around Sofia. This includes the UNESCO World Heritage Site, Boyana Church, with its dreamlike quality, and the red-brick St George Rotunda, which is the city's oldest building.
For something a little more adventurous, you could take on the challenge of the Vitosha Mountain, which stands over 2,200 metres above the city giving you perfect vistas. However, if you prefer to stay on the ground level and want some retail therapy, head to Vitosha Boulevard. This is the fanciest street in Sofia and home to all the big fashion houses and little independent boutiques.
One of the benefits of visiting in March is the weather is fair with fewer tourists. Indulge in the capital's cultural heritage and outstanding wine and dining for low prices. There are many free food tours that take you through the wide-ranging cultural delights of Bulgaria. With Middle Eastern and European fusion, the sheer disparity of colour, tastes and exquisiteness will have you amazed. You'll also be shown some of the most unique places in the city, perfect for new visitors.
SIXT's top tip: Take the No. 10 Tram to Vishneva. This wooded area in the centre of the city is particularly beautiful both in the beginning of Spring and in Autumn.
---
Beach Holidays
3. Canary Islands
Temperature: 21°C High; 16°C Low
How to get there from the UK: 4.5-hour flight
Why travel in March: Incredible sunsets with sunbathing weather and a carnival
The Canary Islands is an exceptional March choice as it is just outside the high season and the weather is on an up-turn. If you are seeking a tan then it is recommended to head south, particularly to Gran Canaria with its iconic beaches. One of the most beautiful spots is Maspalomas Beach ominously surrounded by its famous dunes. March also means the lively Maspalomas Carnival, featuring dancing, food and colourful costumes.
If you want some remote beauty, consider heading to Isla Del Lobos. For serene sunsets, wildlife and a feeling of escape, this is a wonderful experience. It's a small, practically uninhabited, island brimming with flora and lined with sandy beaches. Hop over via a quick ferry ride from any of the main harbours and spend the day wandering the island, following the trails or even taking in some sports fishing.
The Canary Islands offers incredible beaches but also boasts attractive city nightlife. Fuerteventura is filled with incredible fine dining and world-class seafood. Nowhere else in the world might you find prawns, mussels and fresh catches so mouth-watering and delectable. Of course, staying on the island you'll have a lot of options, but we recommend La Marisma for its beautiful design, reminiscent of the location's ancient fishing hamlet roots.
SIXT top tip: In the Frontera National Park lies the Charco Azul. This magical sea-water pool is just one of the amazing sites found in the pristine reserve.
4. Cyprus
Temperature: 20°C High; 9°C Low
How to get there from the UK: 5 hour flight
Why travel in March: 8 hours of sunshine with little to no rainfall with perfect temperatures for hiking
Cyprus starts to warm up in March as it enters Spring. With 8 hours of sunshine and warm waters it's a great time to visit. You also get the added benefit of avoiding high tourism while still getting plenty of chances to sunbathe. There are so many beaches to choose from across the island including Fig Tree Beach, Nigomi Beach and Aphrodite's Beach to name a few. Cyprus in March is also a great option as it has a host of seaside towns, resorts as well as its capital city, Nicosia, on the off chance it rains.
Although you may want to spend your time on the beach the capital of Cyprus offers a lot. Enjoy the many markets, restaurants and museums of Nicosia. However, perhaps the best way to enjoy the city is from great heights. Wander through the atmospheric Laiki Geitonia neighbourhood to arrive at Shacolas Tower, its large windows providing a panoramic view of the city's striking history and burgeoning future.
Equally, after some beach time take in some of the quaint seaside towns of Cyprus. Despite fast becoming the island's most buzzing seaside town, Limassol retains an air of relaxed, slow-paced coastal living. The palm-fringed strip of its seafront promenade is the best place for people watching as jet-setting fashionista types rub shoulders with older locals to enjoy the opulent yet refreshing waters.
SIXT's top tip: With slightly cooler temperatures in March make the most out of the incredible hiking opportunities in Cyprus. The trails of the Troodos and Kyrenia mountains are particularly good.
---
Adventure Holidays
5. Scotland
Temperature: 7 – 13°C High; 1°C Low
Why travel in March: Incredible nature reserves and International Women's Day
One of the best areas for an exciting adventure holiday is Ceag Meagaidh National Nature Reserve. This immense landscape has been described as all the highlands in one spectacular place. It is a rugged region filled with mountains, woodlands, rivers, and moorland offering exhilarating excursions, with many trails open to all levels of hikers. The land itself is so vast and diverse that it has a self-contained climate as it rises out from Loch Laggan to the summit of Creag Meagaidh.
Equally, Knockan Cragg is a geological wonder holding 500 million years of history in its unique rock formations. Hikers from all over the world come to Knockan Cragg as it has some fantastic trails with extraordinary features. There are three key routes you can take on that scale on difficulty. The easiest would be the Quarry Trail, which takes about 20 minutes, while The Thrust trail will take you Moine Thrust. It is at Moine Thrust that you can see the metamorphic rocks which puzzled scientists of the Victorian era. In March the warmer air improves any outdoor activities in Scotland.
Subsidize your adventure holiday with a bit of urban exploring. March 8th marks International Women's Day with many events planned around cities like Edinburgh and Glasgow. In fact, if you're in Glasgow between the 12th and 28th of March you can also check out the International Comedy Festival. See here also for some of the incredible historic sites of Scotland found in both remote locations and in the cities.
SIXT's top tip: One of the prime bird watching areas in all of Scotland is the remote island of St Kilda. Plan a boat trip for a true adventure on the Outer Herbrides.
6. Wales
Temperature: 8°C High; 3°C Low
Why travel in March: Amazing watersports with hiking events and world-class rugby
Visit Wales in March for some incredible scenery and water sports. Three Cliffs Bay, Swansea, is worth mentioning not only because it is a beautifully preserved section of cliffs and beaches but it also offers incredible resorts, camping, and golfing on top of the natural wildlife and flora. It's considered possibly the most beautiful bay in Britain with a wide mouth and the Three Cliff Rocks on its eastern shore, which is a natural rock arch. There's plenty of surfing schools, kayaking spots as well as world-class golf courses too.
Of course the region of Snowdonia offers a huge variety activities, particularly hiking. Snowden Mountain is the highest peak in Wales that reaches an altitude so high climbers can see Ireland from the top. The Llanberis Path would be your easiest way to the summit, and while it is long (around 6 hours there and back) it is gradual, in fact it was originally a pony path, and if you book ahead you can ride a pony up. Check out some other great UK nature reserves HERE.
There are events all over Wales in March. For avid outdoors lovers be sure to inquire about the Crickhowell Walking Festival. It's a great way to explore the scenery of mid Wales with hikers from all over the world. If you're into rugby then there are Guinness Six Nations matches on the 11th and 19th of March 2022. This is a great way to enjoy a weekend in Cardiff between surfing and hiking!
SIXT's top tip: Plan a walk to see the 4000 year old burial place of a Druid Prince. Look for the Bryn Cader Faner stone circle north from Harlech.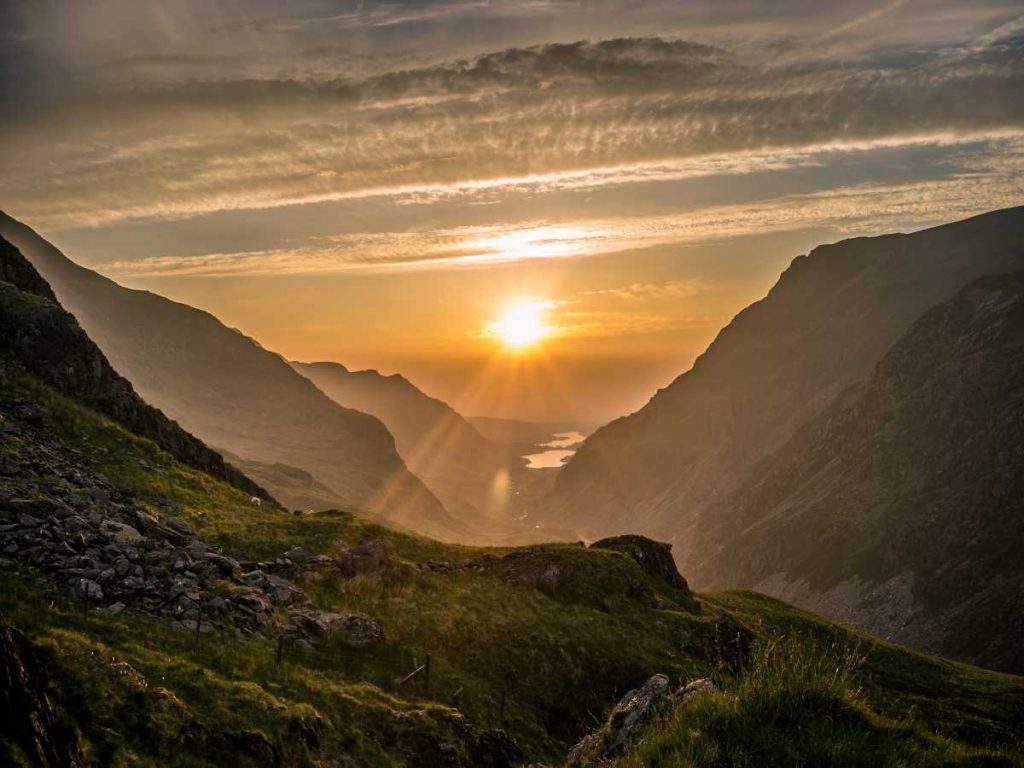 ---
Bucket List
7. Reykjavík
Temperature: 4°C High; -2°C Low
How to get there from the UK: 3 hour flight from London and Manchester
Why travel in March: Unique food festivals in the city and whale watching cruises
Exploring ice caves, seeing volcanoes and walking across glaciers are all unforgettable experiences. It is still winter in Iceland come March, however, the days are longer and there are less tourists. The move into Spring also opens you up to a wider range of activities. Of course, it might seem like an adventure holiday but the incredible spas, nightlife and open-air Nordic museums means you can set the pace in Iceland.
Reykjavík is great in March for its food and drinks festivals. These include the 'Culinary Circus' where world renowned chefs take part in special food tours using local ingredients. The Food and Fun Festival also takes place at the beginning of March along with 'Beer Day' on March 1st, where local pubs offer special deals.
If your dream is to see the Northern Lights then March still offers plenty of chances. You can couple this with one other activity particularly good this time of year – whale watching. In March pods of humpbacks return from summer migrations and there are cruises which offer both whale watching and Northern Lights. With lasting winter ice but warming weather it's even possible to both explore ice caves as well as do some dry-suit snorkelling and scuba diving.
SIXT's top tip: Near Reykjavík is the hidden island of Gelinganes, a large island in the Faxaflói bay. See the incredible wild scenery and shipwreck at sunset.
8. New York
Temperature: 6°C High; -6°C Low
How to get there from the UK: 6 hour flight
Why travel in March: See the city start to bloom with Orchids and festivities.
Use March to experience one the greatest cities on the planet. It's only around 5 to 6 hours from London and you can often find good deals on flights to The Big Apple. New York will be blossoming in March with warmer weather coming in and exciting new line-ups on Broadway, as well as signature events. For shopping, dining and anything else you might imagine, New York is the place to be. If you have never been then March could be the ideal time for a spontaneous holiday.
As the city starts warming up there's the Orchid Show at the New York Botanical Garden. Located in the Bronx Park the massive 250 acre conservation ground is a city favourite. With over a million specimens its known as the 'living museum'. The Bronx also has interesting landmarks like Yankee Stadium and Little Italy if you're in the mood for incredible food. Macy's Flower Show is also a floral highlight in March – the famous department store in the Manhattan's Herald Square will be transformed into a 2 week showcase of exotic plants. Needless to say, shopping and sightseeing in that area will be in abundance.
For those who like to party there is also the world-famous St Patrick's Day Parade on the 17th March. Drink some green beer and enjoy the festivities, bar crawls and all the special events around the city. There's also plenty of basketball and hockey events. March 2022 also has acts like Elton John, Billy Joel and Ben Platt performing in New York so act fast if you want tickets. However you decide to do New York in March it's sure to check your wish-list.
SIXT's top tip: Pick up some future treasures as the Affordable Art Fair in New York – only in March. There are some high-quality pieces at low prices at the Metropolitan Pavilion in Chelsea.
---
Ski Holidays
9. Val-d'Isère
Temperature: 20°C High; 15°C Low
How to get there from the UK: 12 hour drive from London, 3 hour flight time
Why travel in March: The European Snow Pride in March and fewer school trips
Val-d'Isère still has substantial snow in March making it a great ski getaway. You can also enjoy emptier slopes as schools have returned from half-term holidays. This means less ski schools and the beginner trails made at the bottom of slopes. The shifting temperatures can actually mean a mix between sunny days with fresh powder, the odd storm to add new snow, as well as freezing temperatures at night to freshen the slopes.
There are also several key events in March in Val-d'Isère. Visitors can enjoy as much fun off the slopes as they will on. 17th March is St Patrick's Day, which means a lot of Irish themed parties in the bars. Again, the return to school is added benefits for holiday goers looking for a lively party with less children. March also features European Snow Pride – a Gay Pride event – in neighbouring Tignes. Check out famous DJs and wild parties after your day up the mountain. Tickets can be coupled with your ski passes.
Val-d'Isère also offers tours of how controlled avalanches are implemented. If you want a different kind of day go on a tour and see how some of the biggest ski areas are run and how explosive transport cables work. There are also plenty of nature hikes to enjoy if you want to take in the incredible scenery at a slow speed. Equally, Val-d'Isère is known for its incredible restaurants and other high altitude establishments – perfect for taking it easy either with a glass of wine or a book (or both).
SIXT's top tip: March also features the Speed Riding World Meet, a combination of paragliding and skiing. You can watch the sport or even learn it yourself!
10. Sölden
Temperature: 8°C High; -2°C Low
How to get there from the UK: 2 hour flight from London; 6 hour flight from Manchester
Why travel in March: Guaranteed snow with longer days and emptier slopes
Visit the beautiful area of Tirol in Austria for some incredible skiing in March. There's possibly no better resort to visit than Sölden. Enjoy slopes across 3 mountains that reach up to 3000 metres above sea level with a huge variety of slopes – perfect for any level, beginner to pro. It has some of the most well-equipped accommodation and ski lifts, reducing waiting times even in busier seasons. The days are longer in March with much of the crowds also gone. March can prove to be an amazing time for a ski getaway in Sölden.
To get to the impressively high summits arrivals are scooped up by the Giggijoch and Gaislachkogel lifts. The state-of-the-art machinery is so efficient that it guarantees no waiting time in peak times. What's unique about Sölden are the Rettenbach and Tiefenbach glaciers. This provides some truly epic trails with over 34 km of slopes to glacier skiing to enjoy. These are varied from blue to black runs so any skier can take part.
The official season ends around the 3rd May so coming in March puts you on the back-end. This is a great time to visit a resort that boasts an already well-known 'apres ski' culture for a reasonable price. The hotels, bars and restaurants are located by either of the main lifts and have regular events throughout the season. Enjoy some traditional fine wine and dining Austrian style after an exciting day of skiing.
SIXT's top tip: Take part in the James Bond Experience – a key scene in the film 'Spectre' was filmed near the top of the Gaislachkogel lift.