Southampton is an awesome maritime city. Holding medieval structures, many museums, an incredible harbour and more, there are things to keep you busy in and out of the city. Here is a list of just some of the things to do while in Southampton and places to visit on day trips from Southampton.
In The City
Town Walls
Southampton has some of the most impressive medieval structures in England. As a city on the front line of the French invasion in the 14th Century, the subsequent defensive walls are still very much intact. Today visitors can marvel at them along a walking circuit on the north and west sides. This includes Town Quay, the Western Esplanade and Bargate Street. Bargate itself is a remaining structure in the main shopping district that is well-worth spending time by.
Tudor House and Garden
Another historic relic of the city the Tudor House and Garden is extremely interesting. Step back into the Renaissance with this well-preserved piece of architecture. It was the first museum in Southampton when it opened to the public in 1912. Prior, throughout the centuries, it has changed hands and purpose, from a bookbinding house to resident slums. Needless to say, a visit here will give a fascinating insight into the development of Southampton across the back half of the millennium.
Southampton Common
If you are feeling outdoorsy then Southampton Common is a good option. Just by the city centre, this huge open space is filled with woods, ponds, grassland and a host of creatures and flora. Whether for a walk or a bike ride it makes for a great morning or afternoon. If you're interested in the common and its inhabitants then the Hawthorn Urban Wildlife Centre is there to answer any questions. There are also biannual fairs in the common as well as The Common People music festival that kicks off the summer.
SeaCity Museum
SeaCity Museum is a huge project and renovation dedicated to the history of Southampton. Once the magistrate's court this impressive building now houses key information both about the city's importance as well as the RMS Titanic. It was from Southampton that the tragically doomed ship departed in 1912. 100 years later in 2012 SeaCity opened its doors in tribute. Visitors can hear recorded footage of survivors as well as a re-enactment of the subsequent court enquiry after she sunk. There is also an impressive replica of the RMS Queen Mary, a key passenger vessel between England and the USA in the 20th Century.
Hythe Ferry and Hythe
From Southampton, you can take a quick trip across the estuary to the pretty village of Hythe. The ferry comes every 30 minutes and gives cool views of the city's huge harbour. When you arrive you'll be on one of the largest piers in the British Isles. It also has the oldest pier train tracks in the world, built-in 1909. You can still ride the charming little tramway today. It's also a great starting point if you're hiking or cycling due to its proximity to the New Forest National Park. This is not only a terrific conservation area but also the first of our recommended day trips from Southampton.
DAY TRIPS
New Forest National Park
Just 10 miles from Southampton is one of the best national parks in England. The New Forest National Park is reasonably flat making it excellent for long hikes and cycling. You can also hire bikes at several locations including Brockenhurst and Burley. There are many types of bird and other animal life but the park is particularly known for its waders. Laying their eggs in open ground by water and short vegetation they are carefully preserved. You can also see the resident wild ponies that graze across the park.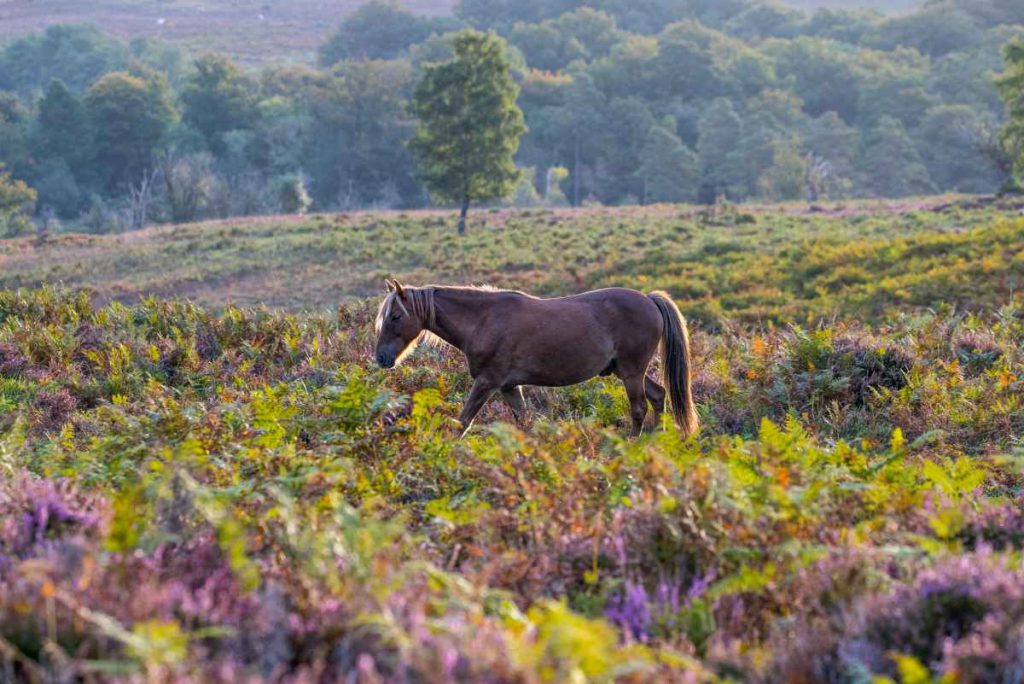 Isle of Wight
Off the coast of Southampton is the famous Isle of Wight. A small island only accessible by ferry it holds plenty of activities. Home to one of England's most beloved festivals, it is a great place to visit during the summer. With a growing food scene, you'll see tea rooms, pubs, restaurants and beach cafes as soon as you get off the ferry. Across the island are sandy beaches. Head west and you'll find yourself at Alum Bay where just off the coast are the famous 'Needles'. These chalk stacks are breathtaking and you can even organise kayaking to get a bit closer. Look out for fossils too as this is England's 'Jurassic Coast'.
Portsmouth
If you enjoy the naval history that Southampton has to offer a trip to Portsmouth may be for you. As one of the most important naval ports in England's history, you will find many maritime marvels. There are restored and rebuilt warships from throughout history including Lord Nelson's flagship and Henry VIII's favourite, the Mary Rose. The Spinnaker Tower is an iconic structure in Portsmouth. Standing at over 550 feet it offers incredible panoramic views of the city, coast and Isle of White in the distance. While holding famous naval forts (Fort Nelson in particular), museums and ship replicas Portsmouth also has many historical pubs dotted throughout the city. If you are around the Dockyard or city centre you will be bound to fall upon some.
Winchester
For a pleasant day walk along the medieval streets of Winchester. Filled with history and dream-like architecture you can get lost exploring this gem of Hampshire. Many come every year to see the Winchester Cathedral, which dates back to 642 and was subsequently worked upon to the 1600s. If you love the ancient lore of England you will enjoy The Great Hall. This museum is a remnant of Winchester Castle and houses a replica of King Arthur's Round Table. Over centuries the castle has been occupied by famous rulers, worked as a courthouse for the trial of Sir Walter Raleigh, and was the setting to many historic events. You can also visit the City Mill, which has been restored to working condition. According to records, it has been making bread in Winchester since the 11th Century.
Bath
An ancient city dating its foundations back to the Romans, Bath is a great day out. It has natural hot springs that have drawn visitors for over a thousand years. Today you can relax in the waters of Thermal Bath Spa with its rooftop pool. Although a very old city many leading fine dining establishments are testing the boundaries of 5-star meals. Equally, there are countless cocktail and wine bars for romantic evenings. Just walking through Bath will take you on a trip through time from the original Roman Baths through to Georgian architecture like Royal Crescent and the Circus. These were places Jane Austen would often feature in her works. If you have time you can even see one of the UK's oldest and most mysterious sites, Stonehenge, which is near the city.
We hope you enjoy your trip to Southampton and beyond. If you need a vehicle for exploring we have a vast range at affordable prices. Whether for short-term or long-term hire in Southampton, SIXT has you covered.
To find out more, go to visit-hampshire.co.uk and discover unique, special events as well as the latest news.