A driving trip through the Yorkshire Dales will take you through an area of England that is renowned for its small and pretty villages set among the mythical windswept moors and craggy limestone hills. You'll discover why these roads are often praised for their dramatic scenery as you drive through some of the most thrilling natural features in the UK.
Harrogate and Grassington
Begin your Yorkshire Dales road trip at Harrogate. This small spa town is famous for being the getaway spot for eminent figures like Queen Victoria and Agatha Christie. It has some unusual attractions for a small English town, not least of which is its ornamental Turkish Baths. You can also visit the Royal Pump Room Museum. It was built to deal with the sulphuric natural springs in the town.
Drive north towards Craven Moor, just after passing through the small town of Pateley Bridge. You'll then enter the Yorkshire Dales National Park. Your first stop here will be in the town of Grassington, after a trip of about 28 miles. This town has more of a Georgian era feel to it. You can spend an hour or so walking around, before getting back into your car and driving out along Wharfdale. You'll soon come across Kilnsey Crag, which is an imposing overhanging limestone crag. Just after you've passed it, you'll find a small road that will take you to Arncliffe. The town is about 8 miles from Grassington.
Arncliffe and Malham
Arncliffe is in the Littondale district, well known for its rustic inns and pubs. You can sample local beer, served the traditional way out of a large jug on the bar counter. The Falcon Inn is a good recommendation. Then drive past the village green and head up a snaking single-lane road. This will take you up out of the Cowside Beck valley. After ascending for a while, you'll get to a fork – take the signposted route to the next town on your route, Malham, about 9 miles away.
By now you'll be in the heart of England's limestone region. The natural attractions become incredibly fascinating. You'll find several landmarks among the limestone gorges and small valleys in this area. The two most famous ones that you'll be able to stop and admire are Gordale Scar and Malham Cove. The Cove is a natural rock amphitheatre that once featured a waterfall believed to have been as large as Niagara Falls. Keep an eye out for the peregrine falcons! They make this area their home (there are birdwatching vantage points). You can also take a couple of hours to walk the Malham Landscape Trail. As you walk it you'll come across Janet Foss's waterfall, as well as the remnants of an Iron Age settlement in the region.
Skipton, Ingleton and Hawes
Once you've rested a little after your walk, carry on driving south towards the next stop on your itinerary. The old Anglo-Saxon market town of Skipton is about 11 miles further along. Even if you only drive through the town, make sure to visit its High Street. It has a festival market atmosphere all year round. You can also treat yourself to a leisurely cruise along the canal for about an hour, which will take you past the ancient Skipton Castle.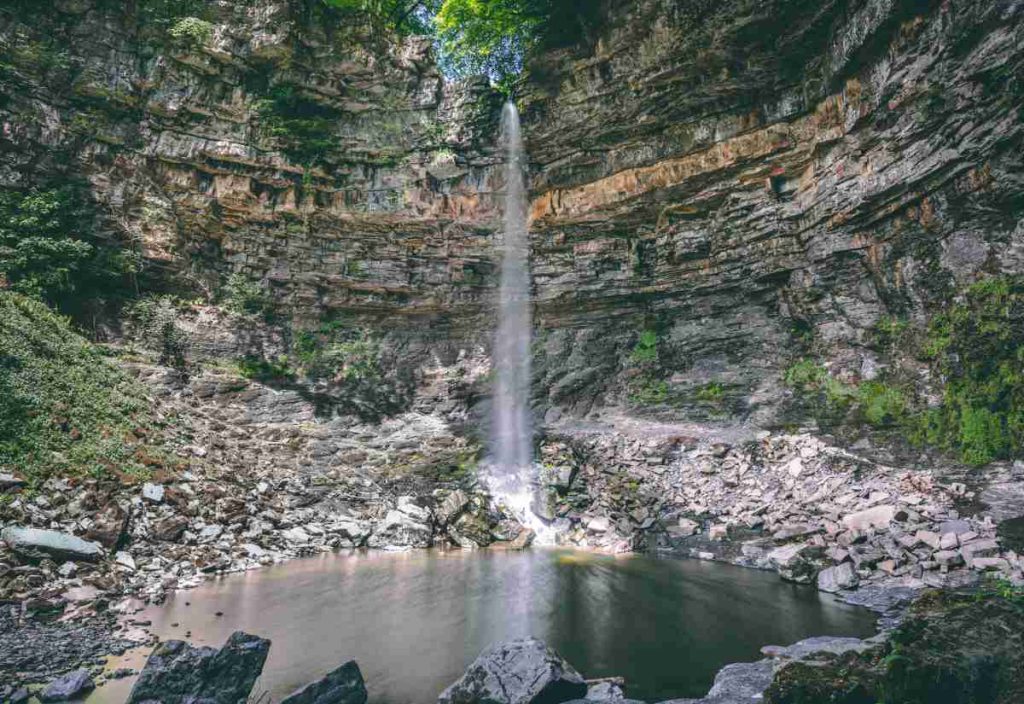 The next part of your trip will be a roughly 25-mile drive to Ingleton, a small town that draws a speleologist from around Europe to its maze-like cave systems that burrow into the Ingleborough peak. You'll be able to view a variety of waterfalls as you pass through. About 17 miles further you'll come upon the capital of the Wensleydale region, the town of Hawes. This is also a market town, as well as housing the Dales Countryside Museum. And of course, it's also where you'll find the famous Wensleydale Creamery that produces the cheese that bears the region's name. You'll also be a couple of miles from England's highest waterfall, the Hardraw Force, which tumbles more than 30 yards down.
Tan Hill and Richmond
Departing the town you'll make your way over Tan Hill, on the Pennine Way. Here you can stop at Tan Hill Inn, the pub at the highest altitude in all of Britain. Suitably refreshed, continue your drive across the Pennine moors until you get to the town of Richmond, set in the picture-book countryside of the Swaledale region. The trip is one of about 25 miles and will take you through smaller towns you hadn't known existed, like Reeth and Arkengarthdale.
Richmond is one of the finest market towns in England. It's set alongside the River Swale, and is instantly recognisable by its most prominent feature, the Richmond Castle ruins. The town is known for its stone cottages and Georgian village architecture. Another of its most famous attractions is the Theatre Royal, which does indeed date back to the Georgian era. It's one of the finest examples of a playhouse from this period and was built in 1788. You can still take a tour of the premises, where you'll see the oldest stage prop scenery that still survives in England, believed to have been created sometime between 1820 and 1836.
This makes a fitting end to your Yorkshire Dales road trip, which will have taken you through some of the wildest countrysides in England while revealing a treasure chest of cultural, historical and natural attractions.