The SIXT loyalty program awards regular customers with substantial benefits and discounts. We understand that there are many loyalty programs so wanted to give a fair run-down of what we provide in comparison to others.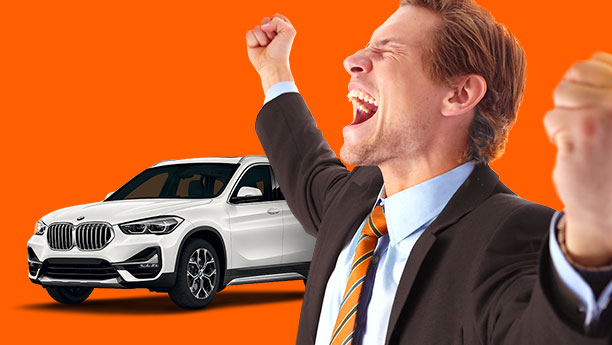 AVAILABILITY
SIXT – New customers can instantly join our loyalty program with the Express Card. Collect points at hotels and airports and other affiliated programs. The Gold level requires only 5 rentals per year and it's 10 rentals for Platinum, therefore providing even more benefits.
Enterprise – Customers can reach Plus level instantly to start earning points. For Enterprise Silver Status it is 6 rentals, Gold Status is 12-23 rentals or 40 – 84 rental days within the calendar year. Platinum is 24 rentals or 85 rental days in the calendar year.
Europcar Privilege Program – There are 4 Privilege levels – Privilege Club, Executive, Elite and VIP. To gain Executive status you need 10 rentals or 40 rental days. For Elite you need 25 rentals or 85 rental days. For VIP you need 40 rentals or 130 rental days.
AVIS Preferred and AVIS Preferred Plus – To get into AVIS Preferred Plus you need 5 rentals or spend €1,000, and to join AVIS Presidents Club it's 10 rentals or €2,000 in rental costs.
Hertz – You can join the Gold Plus Rewards program and start earning points. To access the 5 Star Status you must rent 12 times or spend $2,400. For their President's Circle Status it's 20 rentals or $4000 spent.
DISCOUNTS
SIXT – With the Gold card you can receive up to 10% discounts on any vehicle, including vans. This increases to 15% with the Platinum and applies for each rental.
Enterprise – 10%, 15%, and 20% Bonus Points on their Silver, Gold, and Platinum levels. For example, the Platinum gives 1.2 x points per £1, e.g. 6% rebate.
Europcar Privilege Program – 10% discounts on cars for rental periods longer than 3 days. They also provide €30 off vouchers for Elite and VIP members (after 5/4 rentals), and €20 off voucher for Executive members (after 5 rentals).
AVIS Preferred, AVIS Preferred Plus and AVIS Preferred President's Club – You receive one free weekend voucher once you reach each level. For Preferred, it's after your second rental, for Preferred Plus and President's Club, it's after the third rental.
Hertz – For the Five Star Status you receive a 25% bonus on all points received. In the President's Circle Status you receive a 50% bonus on points received, and like AVIS the amount of points determines discounts.
UPGRADES
SIXT – Our platinum members enjoy an automatic upgrade for all rentals. You can also have preferred vehicle choice (within vehicle class) up to 30 min before pick-up, upon availability.
Enterprise – Silver gives one free upgrade per year. Gold gives two free upgrades per year, and Platinum gives up to 4 free upgrades per year.
Europcar Privilege Program – For the Executive Program you receive 1 vehicle class upgrade on all rentals. For Elite and VIP you receive an upgrade of 2 vehicle classes.
AVIS Preferred and AVIS Preferred Plus – An Avis Preferred Status holder gets one free upgrade after completing their second rental. You are offered a complimentary upgrade whenever possible as a Preferred Plus member. In the President's club, an upgrade is guaranteed.
Hertz – The President's Circle Status gives members a guaranteed one-class vehicle upgrade. The Five Star Status gives customers an upgrade when available.
SPECIAL OFFERS
SIXT – If you subscribe to our newsletter you will receive many discounts including discounts for our SIXT Share and SIXT + services. We even provide personal discounts on your birthday.
Enterprise – You receive special offers when you subscribe to their Email Specials program.
Europcar Privilege Program – Europcar Privilege Elite offers extra discounts for returning customers. There's also 30€ value off coupon after your 5th rental and an additional free weekend after the 3rd rental, for instance.
AVIS Preferred and AVIS Preferred Plus – you automatically receive monthly offers via email as a member.
Hertz – You receive a dedicated customer service number if you're in the President's Circle.
ADDED EXTRAS
SIXT – As mentioned when you enter even our most basic program, Express, you can access extra services.
Enterprise – At participating locations you can enjoy a faster, members-only check-in.
Europcar Privilege Program – Entering the Privilege Program gives you priority status at the branch with all paperwork filled in, saving you time.
AVIS Preferred and AVIS Preferred Plus – If you hire a car within the first two months of joining Avis Preferred you will receive €100 in your 'spend history', essentially bringing you closer to the AVIS Preferred Plus level.
Hertz – Gain access to Hertz E Return with their Hertz Gold Plus Program, a Hertz representative will meet you on arrival with a tablet, inspect the car and have you on your way quicker.
SIXT STATUS MATCH
Matching your loyalty status earned with other car rental companies is very easy and free of charge. All you need to do is register and enter your contact details and a proof of your ownership of a loyalty card with other car rental companies. We will review your request and contact you via email within 2 weeks with your new SIXT loyalty card number.
SIXT STATUS MATCH REGISTRATION FORM
We hope this has been useful. We have pledged to match any and all other offers from competing companies and their loyalty programs. Whatever your decision we aim to make hiring a car easy and always to your advantage with SIXT.