BEST BEACHES IN BARCELONA
The SIXT guide to the best beaches in Barcelona shows you the top spots to cool off on hot days. Savour fresh seafood at the ubiquitous beachfront chiringuitos and make the most of Barcelona's bountiful sunshine and beautiful sunsets.
BARCELONETA BEACH
Popular with tourists and locals, lively La Barceloneta beach is the city's most famous stretch of sand, although it can get crowded in the summer. Located on the edge of the old fisherman's quarter, Barceloneta beach is a great place for swimming and sunbathing, as well as water sports such as windsurfing and kitesurfing. If you want to find a good spot during the warmer months, get there early. After a day in the sun, head to one of the many chiringuitos along the beach where you can enjoy seafood and drinks. There are also plenty of stalls, souvenir vendors and massage tables set up in the summer. The promenade is popular with runners and cyclists, and a great place for an evening stroll.  
NOVA ICÀRIA BEACH
Located north of the Port Olímpic, Nova Icària Beach offers a wide range of leisure activities and is a great place to stay active with dozens of volleyball courts set up along the beach, as well as table tennis tables and a playground. One of the quietest beaches in Barcelona, the sand was imported from Egypt in the early 1990s and the clear blue waters are popular with families. There are a number of chiringuitos and bars along the beach, as well as great restaurants along Passeig de Maritim. Barcelona's top beachside clubs Pacha and Opium are only a 10-minute walk away. From the city centre, Nova Icaria Beach is easy to access by car, bike or Metro.
BOGATELL BEACH
Less crowded than the adjacent beaches, Bogatell beach has clean, shallow waters, making it popular with families and older people. If you're in the mood for lazing on the beach all day and reading a book, hire a sun lounger and umbrella. Active visitors can hire a kayak or catamaran by the pier at the northern end of Bogatell beach, or learn to windsurf, kitesurf or sail. Beachside chiringuitos serve drinks and meals at reasonable prices, offering delicious paella and gorgeous sunset views. Visitors can also find great restaurants, bars and ice cream shops in the hip Poblenou neighbourhood, only a 15-minute stroll from the beach.
MAR BELLA BEACH
Created as part of the urban development for the 1992 Olympic Games, the white sands of Mar Bella beach attract a diverse crowd. Located further away from the centre of Barcelona, this beach is naturally quieter and cleaner, with fewer vendors. It is great for people with disabilities, as the walkways extend across the sand to the sea. A lift is also available and there are accessible bathrooms and showers. Visitors can hire a windsurf or kayak at the beach, although the waves can be quite choppy on windy days. Beachside activities include volleyball and football, as well as jogging or walking along the promenade. There is also a skate park and playground at one end.
SANT SEBASTIÀ BEACH
Conveniently located within walking distance of the city centre, Sant Sebastià is one of the longest beaches in Barcelona, extending for more than 0.6 miles between the sail-shaped W Hotel at the western end and La Barceloneta beach. Popular with local families and older people, some of Barcelona's most prominent sports clubs are located on Sant Sebastià beach. A great place for spending the whole day, visitors can swim in the inviting waters, play volleyball, try new water sports and savour plenty of dining options along the boardwalk. There is also an unofficial nudist section near the swimming pools. Located in the Ciutat Vella district, you can also take the cable car to Mount Monjuïc to enjoy spectacular views of Sant Sebastià beach.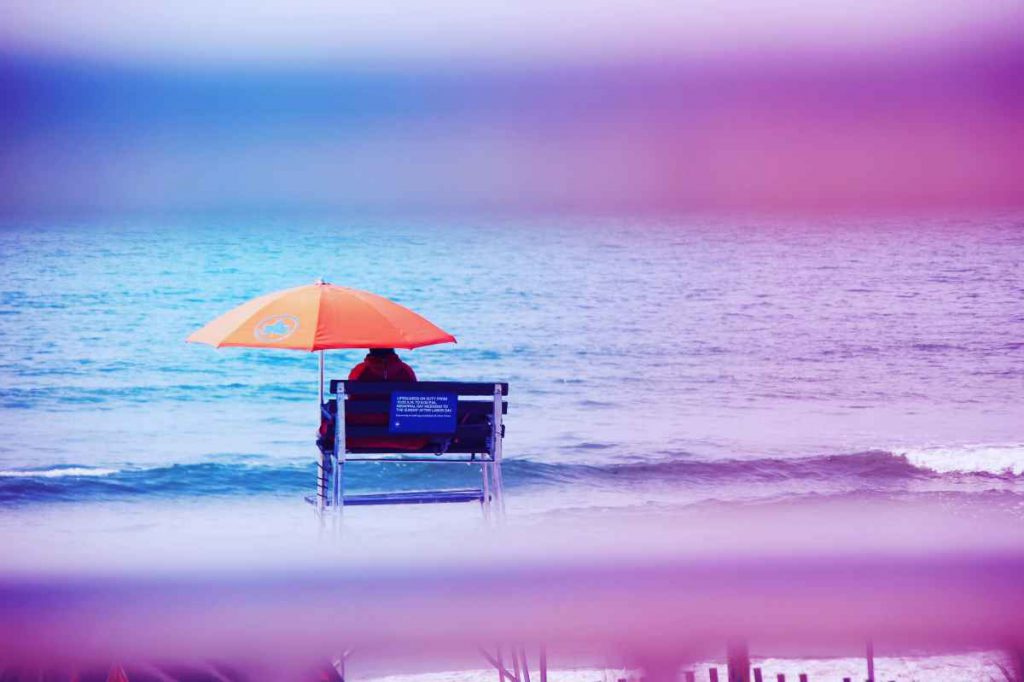 OCATA BEACH
When the city beaches are packed during the summer, Ocata Beach in the town of El Masnou boasts a pristine stretch of wide, golden sand only 14 miles north of Barcelona. Away from the crowds, tourists and beach vendors, this part of the Catalonian coastline is ideal for sun-seekers who prefer to have a little more space to themselves. Boasting clean, clear waters, there is always plenty of room to lay down your towel, play football or volleyball. The small waves are popular with surfers, and you can also hire a kayak to spend some time on the water. Flanked by a promenade for walking, running or cycling, visitors can enjoy fresh seafood and cool drinks at the chiringuitos set along the beach as you watch the sun set.
CASTELLDEFELS BEACH
Increasingly popular with tourists and holidaymakers, Castelldefels beach is a beautiful 3-mile stretch of sand located 15 miles south of Barcelona, between the River Llobregat and the Garraf Natural Park. Boasting soft sand and calm, warm waters, this is one of the best beaches outside of the Barcelona city centre. Castelldefels beach is a great place for water sports such as kitesurfing and windsurfing, with many places that offer equipment rental, including stand-up paddleboards, surfboards and sailboats. There are also plenty of beach bars where visitors can enjoy drinks and refreshments or hire a sunbed and beach umbrella. Pack a picnic or dine at the excellent local chiringuitos and restaurants.
SANT POL DE MAR BEACH
About an hour's drive north of Barcelona on the Catalonian coast, the golden beaches and crystal-clear waters of Sant Pol de Mar offer visitors a serene seaside experience away from the bustle of Barcelona's city beaches. Whether you prefer swimming, sunbathing, snorkelling or simply strolling by the water's edge, there are ten beaches to choose from in Sant Pol de Mar, from wild stretches that are popular with nudists, to quiet picnic spots and rocky coves. Chiringuitos and restaurants in Sant Pol de Mar serve a selection of appetising seafood and rice dishes, and visitors should also take the time to explore the winding streets of this charming village, which is surrounded by lush countryside.
SITGES BEACH
Only 25 miles from Barcelona, Sitges is one of the best beach towns in Spain. Originally a fisherman's village, the whitewashed buildings and bohemian charm make it a lovely destination for visitors to escape Barcelona's crowds. There are more than 15 beautiful beaches in the area, for example the family-friendly Fragata beach and Sausalito beach. Beaches close to the city centre tend to be busier, while those further out are more secluded. Like most of Barcelona's beaches, facilities include sun bed hire, water sports and volleyball nets. Many beaches also offer access to people in wheelchairs. Bring a picnic lunch or enjoy cocktails and tapas at the beachfront chiringuitos.
LLEVANT BEACH
From Barcelona, visitors can take a day trip to gorgeous Llevant Beach in Salou, about a 90-minute drive along the coast. The soft, golden sand and clear, shallow waters make it ideal for families seeking a day in the sun, with plenty of water activities and equipment for hire, including jet skis, banana boats and paragliding. Excellent facilities include sunbed and umbrella hire, public showers and toilets, volleyball courts and children's playgrounds. Take a stroll along the palm-lined promenade in the evening and savour local gastronomy at the nearby chiringuitos and restaurants. The Els Pilons sculpture at the eastern end of the beach is a great place to watch the sun set.
Whether you're planning a summer holiday or a winter escape, SIXT has a premium fleet of hire cars for short-term and long-term rental, so you can discover Barcelona's most beautiful beaches for yourself.