Not many people think of doing a road trip from Atlanta to Nashville. In fact, the southeastern region of the United States, aka, the South, is often overlooked when it comes to road trip routes. Most people would probably skip this region entirely in favor of the beaches of Florida or charms of New Orleans. But that would be a mistake. What the Deep South offers is distinct cultures, interesting landscapes, and delicious food that will reward the curious traveler.
You will need a car to see this area, and if you are flying in, you will need a hire car. Our chosen road trip from Atlanta, where you can find three Sixt car hire locations, travels in a loop to Nashville and back. The driving time, depending on the route, is a bit more than 6 hours. A round trip is doable in a four-day weekend, depending on how many stops you would like to make and how many people are sharing driving duties. And of course, you will likely want to spend at least two days in some of the locations like Nashville with its diverse music scene and delicious food. A Sixt location is conveniently located at the Hartsfield-Jackson Atlanta International Airport, meaning you can fly in and hit the road in no time.
Here, our Atlanta to Nashville road trip goes through Georgia to Alabama, then up to Tennessee. Parts of the drive involve hilly or mountainous areas, so an SUV rental might be a better idea than an economy or compact model if you are planning to do outdoor activities. Now all you have to do is pick up your car rental and start driving!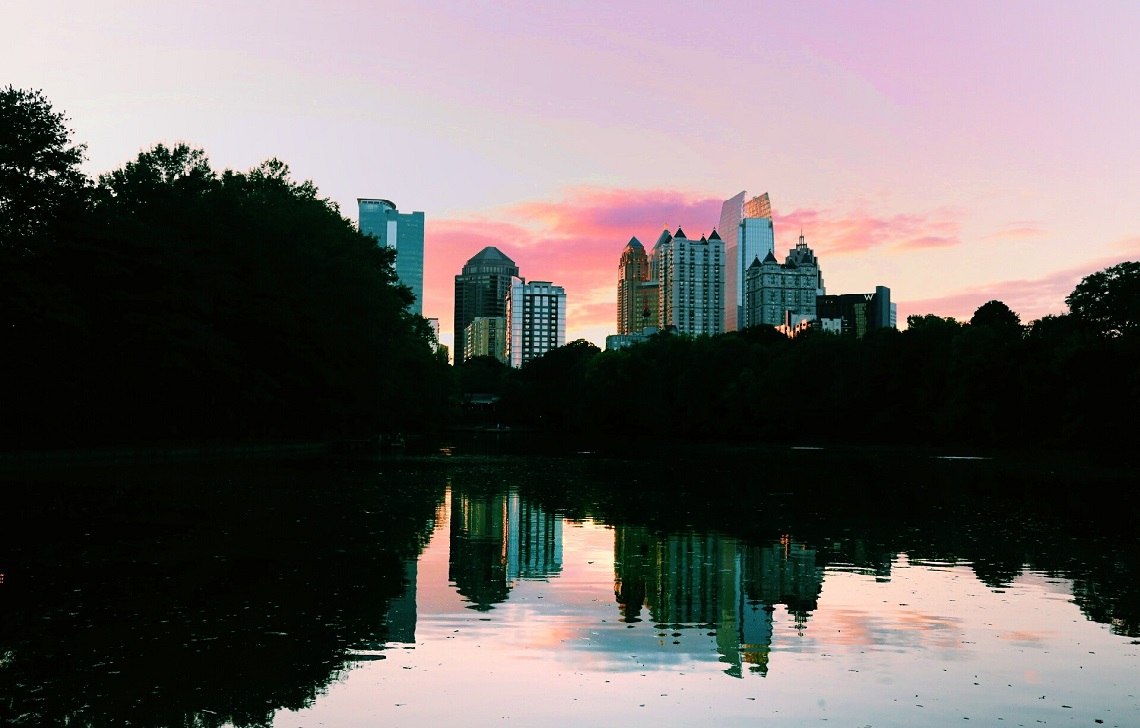 A view of Atlanta from Piedmont Park
STOP 1: ATLANTA
The capital of Georgia has been the site of multiple historical moments. Important parts of the Civil War took place here, as portrayed in the iconic "Atlanta burning" scene in the 1939 movie "Gone With the Wind". It was also a key part of the civil rights movement and the site of the Olympic Games.
Atlanta was mostly burned down during the Civil War and since then reconstructed. It's the centre of the New South cultural movement and has experienced a renaissance of sorts in recent years, producing several stars in the hip-hop and rap world and becoming the setting of TV shows and home to large corporations. You can get a big city vibe here, but also get a taste of genteel southern charm with historical buildings and houses. And since you are on a road trip, there are many sights to see and you can easily do it all in a day or two in your rental car.
WHAT TO DO
Visit Martin Luther King Jr.'s childhood home and the original Ebeneezer Baptist Church where he was a pastor, both part of the Martin Luther King Jr. National Historical Park.
Tour the World of Coca-Cola and learn about the history of the soft drink behemoth whose headquarters are located in Atlanta.
Eat some barbeque. Or some Southern-style biscuits. Or some fried chicken. Basically, you should come to Atlanta hungry and not worry too much about calories.
Park your car and stroll through the Centennial Olympic Park, site of the 1996 games. Entrance to the park is free, but you will likely need to pay for parking.
Drive to the outskirts of Atlanta to Stone Mountain and the park around it. There is a nature garden and a cable car ride to the top of the mountain.
To get to your next stop, take I-85 S from the airport toward Montgomery, a drive that will take you just over 2 hours.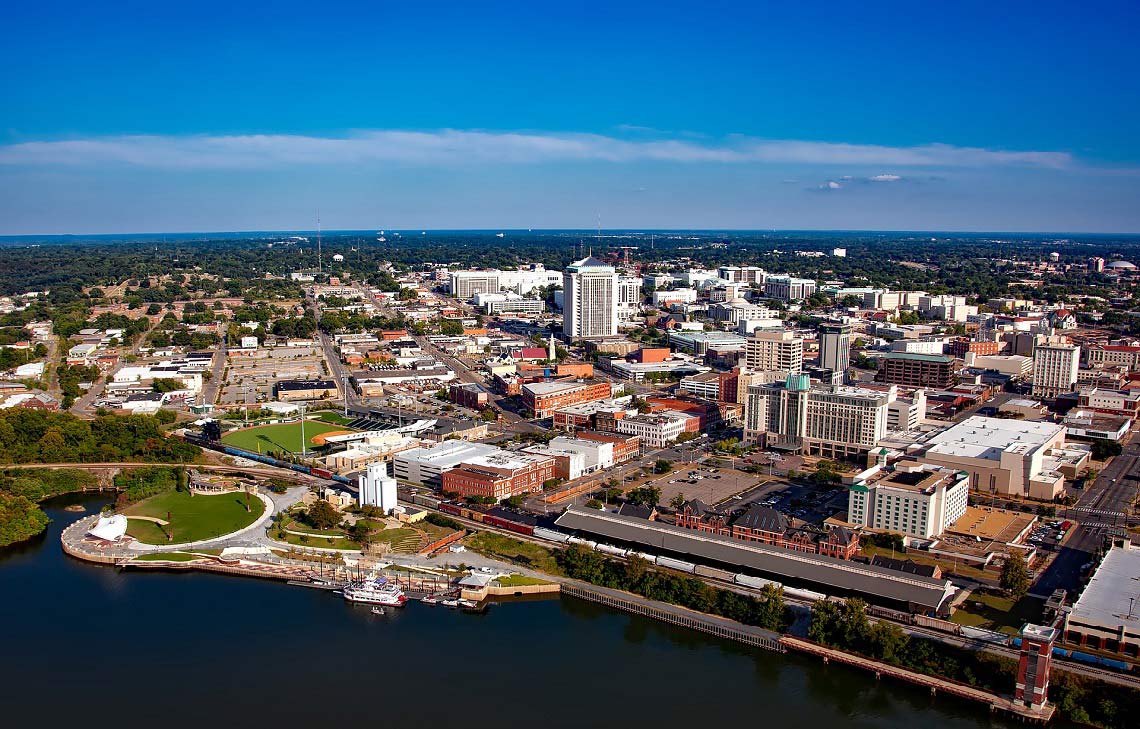 An aerial view of Montgomery, Alabama
STOP 2: MONTGOMERY, ALABAMA
Before you get to Alabama's capital city, you will drive through the Tuskegee National Forest, and then the town of Tuskegee, best known for being the home of important figures in African-American history, and a university founded by a former slave.
After Tuskegee,  you drive on to Montgomery, a quaint riverfront city that is also the birthplace of the civil rights movement. There are many historical sights to see, but the city is also home to revitalized districts with new businesses and hip restaurants and bars.
WHAT TO DO IN MONTGOMERY
Learn about the Montgomery Bus Boycott and other events from the civil rights movement at the Rosa Parks Museum and Civil Rights Memorial Centre.
Drive to Riverfront Park and take a riverboat ride.
Take a picture with a statue of country music star Hank Williams.
Visit the Dexter Avenue Baptist Church where Martin Luther King Jr. was a pastor. He planned the Montgomery Bus Boycott there in his basement office.
Once you've seen all there is to see in Montgomery, it's an easy 1.5-hour drive on I-65 N toward your next destination in Alabama, Birmingham.
Buildings in downtown Birmingham, Alabama
STOP 3: BIRMINGHAM, ALABAMA
Our next stop is in the "Magic City", Birmingham, the largest city in Alabama. There are several civil rights landmarks here, as well as several hiking and nature options and museums. Or you can just soak up the vibe of a former industrial city that's undergoing a revitalization and is still an important business centre for the region. A lot of our stops here are on the edge of the city, but you can comfortably see everything with your rent a car.
WHAT TO DO IN BIRMINGHAM
Drive to the outskirts of Birmingham to Red Mountain Park that bills itself as "the Central Park of the South". The 1,500-acre park, once the site of an ore mine, has trails and zip lines. Sitting atop Red Mountain and looming over Birmingham is the Vulcan statue. This giant rendering of the Roman god of fire is the largest cast iron statue in the world.
More history of the civil rights movement can be found at the Birmingham Civil Rights Institute.
Park your car and walk a couple of blocks to the Alabama Jazz Hall of Fame. This theater and museum explains Alabama's place in the history of jazz music.
Continue on I-65 N for about 2 hours and 40 minutes into Tennessee to our small town break in Franklin.
A country scene in Tennessee
STOP 4: FRANKLIN, TENNESSEE
Here we take a bit of a break from cities for a smaller Southern town. Franklin is about 20 miles from Nashville but much slower paced. Park your hired car close to the quaint main street area where there are boutiques and restaurants. Then drive around and look at the Victorian houses. Franklin is perhaps most famous for being the site of the Battle of Franklin in 1864 during the Civil War. The Carter House and the Carnton Plantation are both remnants of that battle and contain original furniture and a cemetery. Mostly, Franklin is worth a little jaunt off of I-65 to slow down and drive around with the windows open or the top down while getting a taste of the real South.
Point your rent a car north once again on I-65 and in 30 minutes you will get to the music mecca, Nashville.
Seeing live music in Nashville is a must-do
STOP 5: NASHVILLE
Known since the 1950s as "Music City U.S.A.", Nashville is still where some musicians go to make their dreams come true. And while the music scene is a big draw in this capital of Tennessee, there is much more to see and do here. There are a surprising number of outdoorsy things to do in the Nashville area due to its location on the Cumberland River and close to mountains.
Just visiting all of the music venues and museums in Nashville could take a day or two. We recommend parking in a garage if you are planning to visit multiple spots on Music Row or other dense areas downtown. Otherwise, there is metered street parking for more short-term stops.
WHAT TO DO IN NASHVILLE
Visit the Musicians Hall of Fame in the basement of the Municipal Auditorium. Here you'll find instruments and exhibitions from a wide range of musicians including Garth Brooks and Jimi Hendrix.
Country music venues and museums are probably the most popular attractions in Nashville. Learn about the Man in Black at the Johnny Cash Museum or a wider overview at the Country Music Hall of Fame and Museum. If you plan ahead, you can see a show at the renowned Ryman Auditorium or Grand Ole Opry.
Go to the Parthenon. That's right, Nashville has a full-scale replica of this Greek structure, due to being known as the "Athens of the South." You can find this in Centennial Park by driving west from downtown.
Eat some hot chicken. This local specialty has spread across the nation, with Kentucky Fried Chicken even getting into the game, but you should try it here. The fried chicken involves a lot of cayenne pepper, so be sure to use the spongy white bread that you get with your order to calm the fire in your mouth.
If you have time, it's worth a drive east from downtown Nashville to The Hermitage, the former home of the seventh U.S. President Andrew Jackson. The mansion and plantation grounds are good for learning some presidential history and getting a break from the city.
From Nashville, we head back toward Atlanta on I-24 E through Tennessee for a 2-hour drive to Chattanooga.
A view of Chattanooga from the Appalachian Mountains
STOP 6: CHATTANOOGA, TENNESSEE
Besides being a fun word to say, Chattanooga is a city in a beautiful setting at the foot of the Appalachian Mountains. You'll find a lot of outdoor-focused activities here, which might be welcome towards the end of a road trip. Because of the city's setting on the Tennessee River, you don't even need to leave the city limits to spend some peaceful time outside along the water.
WHAT TO DO IN CHATTANOOGA
Relax at Ross's Landing, an urban park along the river. While it's now an outdoor oasis, it's on the site of where the Cherokee nation once lived.
Drive to Ruby Falls, just to the southwest of downtown Chattanooga. The underground waterfall is 145 feet tall and lies within a cavern inside Lookout Mountain.
Lookout Mountain itself is worth a visit, either because of its hiking trails or its history as the site of a famous Civil War battle. And if you're not afraid of heights, a ride on the Lookout Mountain Incline Railway up the side of the mountain gets you to historical sites and trails.
Still want more of the outdoors? Drive further out to Rock City, which is popular due to its panoramic views of seven states.
After Chattanooga, you're in the home stretch of this Atlanta to Nashville road trip. Sit back and enjoy the scenic views from the comfort of your rental car as you drive south on I-75 back to Atlanta for about 118 miles, which takes roughly 2 hours. When you get back to Atlanta, it's easy to return your vehicle to Sixt at the airport. Or give into temptation and extend your reservation to enjoy the South a little bit longer.