For 15 years during the penultimate weekend of August aficionados, gear heads, bikers and families have gathered in Berlin. They come together among the open tops of classic era pure American cars celebrating their nostalgia of bee-bop music, hamburgers and chrome finishes.
In August 2018 we paid a visit to Scholss Dieddersdof, a stately grounds and hotel in the very south of Berlin, to capture the atmosphere of a very particular demographic in Germany.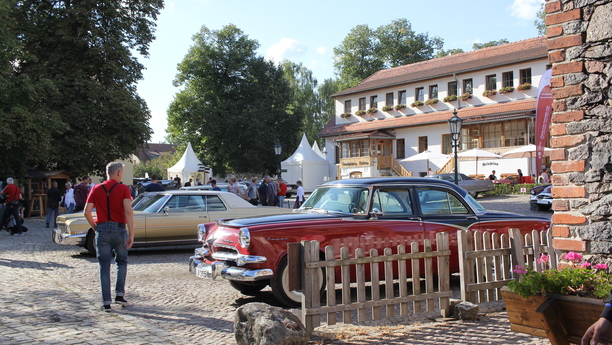 The festival was started by Frank and Simone Pepple, a couple of old-timers whose passion for American automobile drew hundreds of others to join them each year to embrace their passion for Americana cars and fashion.
After a walk around the stunning grounds, weaving between Buick's, Fords, Mustangs, Chevrolet's and more, it quickly became obvious that these were not cars gathered from a handful of showrooms.
No, standing beside most of the vehicles was a woman dressed in polka dots, or a man with slicked back hair and Elvis side-burns and suspenders. In other words, this was a collection brought together by private and eccentric collectors.
Besides the Elvis and Jerry Lee Lewis archetypes were various motorcycle gangs brandished in leather as well as families there for a day out.
Throughout the weekend people ate hot dogs and burgers while various trophies were awarded. People won for best cars amid certain decades, best interiors, best dressed, rarest trucks etc. All the while encircling the grounds were a parade of these unique vehicles taking visitors for laps.
It would be difficult to list all the different cars, there were sheer lines of different Mustangs alone. Some of the most notable would be a full restored Ford Thunderbird, a custom restored 1930's Ford Model A, as well as some classic 1950 Plymouth's, including a Fury.
Of course there were also some very niche cars including some movie recreations. Roaming around was a 1970's style police cruiser blasting its cherry siren, reminiscent of The Blues Brothers. But what gathered perhaps even larger crowds was the fully function  Delorian from the cult classic Back to the Future.
To get an idea of the reasoning and the passion behind such an obscure we spoke to one couple, Guido and Iris, who were standing proudly by their Buick Eight (1951).
When asked Guido explained he bought the original car in Leipzig and had spent a couple of years getting parts mostly from New York City for full restoration. He admitted that this was certainly not his profession but just another outlet for his love of 50's music and fashion.
Looking around the venue it seemed Guido and Iris had touched upon the real reason most others came. It wasn't just the vehicles but the value of open road freedom that inhibits the unique aesthetic. Behind denim patches and bold eagle bandannas was a real celebration of simpler times.
The cars, the fashion, even the music they love originated in the US – a country once at war with Germany around the time many of these cars were manufactured – and yet even so there was a deeper community spirit.
The love of car restoration and the time period brought individuals and even families together, shown not just by the vehicles but the amount of children running around and far spread beer gardens. The US Classic Car Show was the American spirit embraced by Germany.