Sixt 4x4 Hire - Rent a 4x4 for a Great Price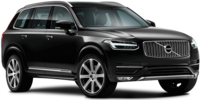 Sixt has a large selection of 4x4 and Off-Roaders to rent all through the UK and all over the world. Learn more about Sixt's 4X4 car hire below if you are looking for a high quality four wheel drive vehicle for adventures on multiple terrains. If you are looking to hire a 4X4 for a safer ride when it is snowing, or if you hope to hit the slopes for some snow sports and need extra room for your equipment, Sixt has the right 4x4 for every occasion.
Premium 4x4s: Sixt rent a car offers you a fantastic selection of 4x4s from only the finest car brands including Mercedes-Benz, Audi and Volvo.
Global Rental Network: Sixt rent a car has more than 4,000 convenient branches located around the world and in the UK.
Trust in Sixt: We have been perfecting our service since 1912 and offer reliable, clean off-road vehicles that can be tailored to your needs.
Explore further with a 4x4 hire with Sixt
Today, you can easily experience 4x4 driving on many types of surface. For instance, by taking courses on how to control the vehicle on less-than-flat terrain (the best kind for a 4x4!), to holidays driving through game reserves in African Outback or up glaciers in Iceland. However, another way is to hire a 4X4 yourself and set off to find your own adventures. 'Green laning', as it's called, is a very popular activity and before long you'll be covered with mud and realising why these powerful driving machines are amongst the best. However, make sure to return your Sixt hire 4x4 in pristine condition! Here is a selection of the Sixt 4x4 vehicles for hire in the UK.
Booking a 4x4 Made Easy
To hire a 4x4, in most cases you will need to have held a driving license for at least three years and be over thirty years old, although some of the more compact vehicles have lesser restrictions; the absolute minimum is one year's license and 25 years old. Find out more about some of our services and upgrades below.