Sixt car hire in Majorca
Booking a cheap car rental with Sixt is quick and easy and should your plans change then free cancellation is almost always offered. Our fleet in Majorca is from recognised brands such as BMW, Mercedes-Benz, Citroen and Volkswagon and can be collected from our branches at Palma de Mallorca or island locations such as Calvia.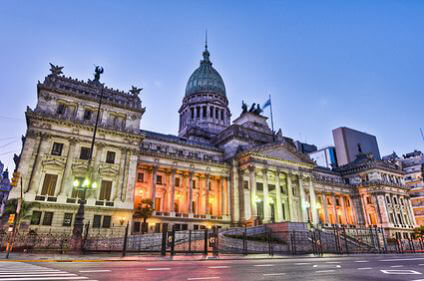 Our Service
Select a child seat, Sat Nav or organise a one-way rental for an island road trip when you book online. Our attractive extras range also includes reduced deductible insurance policies that limit your risks for holiday driving peace of mind.
Which vehicle category to choose?
Driving an economical and compact saloon makes navigating narrow village roads a breeze.
Enjoy driving around the island's coastline in convertibles or sports cars.
Estate cars and 4x4s have room for the whole family as well as any souvenirs you might pick up.
Age Restrictions
To rent a car in Majorca you must be at least 18 years old and in possession of a full driving licence. If you are under 23, surcharges may apply.
Driver's license
All EU driving licences and international licences for European non-residents are valid in Majorca. They must be written in the Latin alphabet or accompanied by an International Driving Permit (IDP). It is possible to add an extra driver during the booking process. Valid driving licences must be presented when you collect your car rental.
Accidents
Should you be unfortunate enough to have an accident, contact the police immediately on 112 and notify your Sixt agency as soon as possible on +34-902491616. You will find accident report forms in your rental vehicle.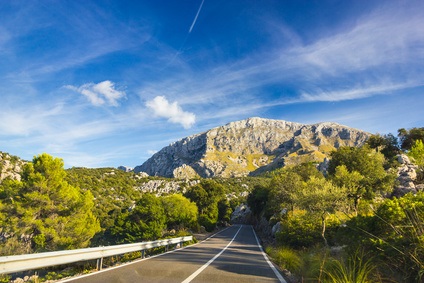 FAQs
For how long can I rent a car from Sixt?
What documents do I need to rent a car?
What insurance cover do I need?
Can I collect my vehicle from one branch and return to another?
Do I always need to pay a deposit?
Can I book a car with unlimited mileage?

About the Region
The sunny island of Majorca is a real jewel in the Mediterranean crown with its beautiful family-friendly beaches, secluded mountain villages and a scenery that takes you through almond groves and past vineyards, honey-coloured monasteries and ancient ruins haunted with an air of mystery.
The Majorcan Coast
When you pick up your Sixt car hire from Majorca Airport you are perfectly placed for a road trip along the island's western coast. You will see spectacular cliffs where the magical Tramuntana Mountains meet the sea before you reach the Formentor Peninsular with views that take your breath away. Leave plenty of time for your plans as roads wind tightly around mountain bends or meander steeply down to isolated beaches. You will, however, be amply rewarded for your patience!
Stop off in Valldemossa a popular haunt of celebrities past and present. The pianist Chopin found cool comfort in its monastery when he spent a Winter here with George Sand.
Tip:The Spanish sun gets more intense as the day goes on so a leisurely drive in your air-conditioned car hire in Majorca is the perfect way to enjoy the day. You will find plenty of parking along the Majorcan coast, sometimes in pay and display zones.
The Majorcan Plain
Take a trip across the central plain of Majorca on old Roman roads that take you through charming villages and an agricultural landscape dotted with windmills. An easy journey from Palma de Mallorca brings you to Montuiri. This town predates the Reconquest and is surrounded by fascinating archaeological sites as well as being close to the Puig de San Miguel, an area of special natural interest. Continue on to:
The town of Vilafranca de Bonany with its typical Mallorcan architecture. It is close to the Els Calderers rural museum where you can enjoy some wine and food tasting.
Sant Llorenc des Cardassar with its Plaza Nova and the Romanesque church of Sant Llorenc.
Just a few minutes more brings you to the pretty resort town of Cala Millor with its long promenade that takes you to La Punta a protected natural area of sand dunes.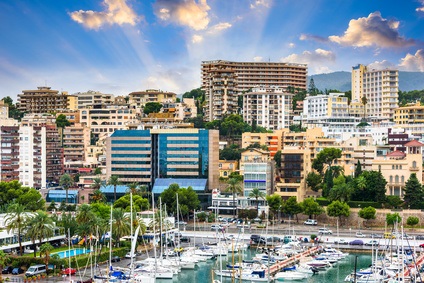 Important Cities
Palma de Mallorca and Alcudia are must-see towns on any visit to Mallorca. If time allows Calvia on the west coast makes a pleasant driving destination.
Palma de Mallorca
The island's capital and largest city Palma de Mallorca has a history dating back to the Bronze Age. Today it is a pleasing mix of old and new with family friendly beaches and beautiful architecture that spreads out from its carefully restored cathedral.
Alcudia
A wander through the walled medieval city of Alcudia reveals ancient walls, remains of Roman houses and an amphitheatre. Its maze of narrow streets is perfect for souvenir shopping while an eclectic choice of restaurants guarantees an enjoyable dining experience.
Calvia
Calvia has the distinction of being Spain's richest municipality with beautiful gems of beaches that are magnets for tourists. The town itself is slightly inland and a sleepy place with ochre-coloured houses, terraces overlooking groves of almond trees and an impressive 19th-century church.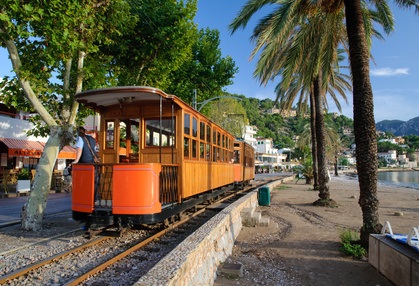 Climate, Cuisine, and Children
Climate and temperature
Majorca enjoys a typical Mediterranean climate with mild Winters and dry, sunny Summers along with some slight regional differences such as the higher rainfall and colder Winters of the Tramuntana Mountains. Whichever time of year you visit Majorca al fresco lunches are definitely on the menu.
The Majorcan kitchen
Mallorquin dishes make full of use of fresh local produce like almonds, walnuts, olives and the local Ramallet tomatoes. These are all added to Majorcan staple dishes of pork and vegetables. Be sure to try local paella made with noodles instead of rice, delicious dishes of pork loin in tomato sauce or the seasonal delight of suckling pig.
Majorca with children
With its Mediterranean climate and safe beaches Majorca is a perfect family destination, especially in the half-term months of May and October when temperatures are not quite at their peak. Children always love the spooky underground world of the Arta Caves on the East cove while the Katmandu Theme Park near Calvia has rides that thrill every age from three upwards. Palma Aquarium is educational as well as fun with its interactive activities and tunnels that lead you through 55 different underwater ecosystems.