Car Hire London Deals : Sixt rent a car
Why rent with Sixt?
4,000+ car rental locations worldwide
Low cost car hire in London
Car hire in over 100 countries
180,000+ vehicles in our fleet
50,000+ premium rental vehicles
5th largest global car rental company
With over 50 car rental locations scattered throughout London, you will never be too far away from finding a great car hire deal in the nation's capital city. Sixt offers a wide range of rental services in London making it easy to get the right vehicle for your trip to London. With Sixt you will be able to choose from 4X4s, convertibles, luxury cars, vans, and economy cars. If you are planning on visiting London with your family or for a romantic getaway Sixt offers the right vehicle for your trip to London. Sixt rent a car is looking to serve you at one of our many car hire branches in London.
Car Rental in London with Sixt
Our car rental London locations provide an extensive coverage of not only the city but also its surrounding areas, districts and boroughs. You will find our London car hire branches at all major train stations and airports; including Heathrow, Gatwick, Stansted and London City. Wherever you may be, our multitude of London branches will have your needs more than covered!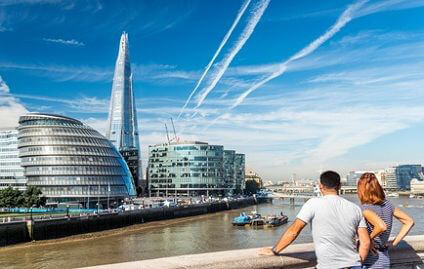 Our diverse car hire services will provide you with everything you may need in this metropolitan city. Sixt boasts an ever growing and varied fleet to ensure that no matter your requirements, you will be able to find the perfect London car hire solution. If you are looking for a luxury car, economy car, convertible, family saloon, a 4x4, or even a van hire in London, you will be able to find exactly what you are looking for at one of our locations in London. Book online to view our best deals and guarantee your car will be waiting for you when you arrive.
Top things to see in London with a car rental
Here are some of the most popular attractions to see while you are in London and are recommended to have car to make it easier to g.
Tower Bridge
The London Eye
The Tower of London
The National Gallery
Taking a drive around the Tower Bridge is speechless you will be able to see everything up close a lot easier when you drive. If you are on a time restraint while you are London taking your own tour and see what you want, you do not have to take a tour on a double decker bus. There is so much to see just from the streets you will never have to leave your car to feel like you have seen everything London has to offer.
Why rent a car in London?
The main reason why people who live in London hire a car is to get out of the city. If you are making a trip back home to visit your family, going on vacation outside of London, or just need to get out of the city for a weekend, hiring a car is an affordable way to get outside of city quickly. Sixt wants to be your transportation when you leave the city of London. Sixt has several locations in London to make it easy to get out of London no matter where you might be in the city.
If you live in London or traveling to London Sixt wants to be your car hire company. Sixt is looking forward to handing over the keys to one of our prestigious vehicles, once you arrive to the rental counter.
Airports with Sixt stations