Majorca Palma Airport Car Hire
What our customers say





| 20.06.2015 10:16
| 18.06.2015 16:08 A good experience. Transparent pricing and fees were very welcome. Will definitely use Sixt again. (Unlike another company we used last year, who ripped us off!)
| 08.06.2015 21:31 Good booking process/system, good/friendly/helpful staff, very good office/parking facilities,
| 05.06.2015 10:29 Love Sixt. Use it all the time. Works wonderfully. Recommend it warmly. Best rental service I have ever had.
| 20.05.2015 18:59 the staff was absolutely fluent in german/english, really great communication and customer experience (professional, friendly). On top I had a typo in my reservation (reserved from 3 AM onwards whilst I wanted 3 PM) and it was no issue to adjust that at pickup. Really good!
| 13.05.2015 10:33 Easy rental from start to finish. Not the cheapest but the extra paid was worthwhile for the professional approach to the rental .I will certainly use SIXT again.
| 07.05.2015 10:56 Everything was OK.
| 24.04.2015 14:40 Very professional and helpful employees...GPS programmed for English quickly and with a smile.
| 12.04.2015 18:35 I am a serial renter of cars at Palma de Mallorca. The standard of vehicles at Sixt is better than any other company. The Mallorca office is unfailingly efficient, friendly, helpful and courteous. It is the smoothest rental process I know at Palma airport and I choose Sixt in spite of the significant price difference to other...
| 06.04.2015 09:38 Third time used in Majorca will be renting again in July
| 02.04.2015 11:05 The whole rental procedure was very simple and straitforward. The car itself was brand new.Altogether the experience was excellent.Thank you very much.
| 17.03.2015 20:49 Worth paying extra for better service than some of your competitors
| 15.03.2015 21:21 Very helpful and friendly staff. Airport terminal collection/drop off extremely useful. Vehicle received like new - staff even took time to convert sat.nav. to English and key in our destination address. Would certainly use Sixt again and will recommend to others.
| 26.02.2015 10:07 The whole process of renting the car went very smoothly and the staff were very helpful, especially when we had an issue with some damage caused by debris on the road.
| 18.02.2015 14:28 Die v.g. 3 Hauptgründe reichen nicht aus, um meine Zufriedenheit auszudrücken. Fahrzeugtyp und Ausstattung waren hervorragend, Servicemitarbeiter an Vermietstation und bei Übergabe sowie Rückgabe des Wagens sehr freundlich und kompetent.
| 13.02.2015 11:14 Very pleased excellent product.Just booked another car from you in Mallorca for April.
| 12.02.2015 12:27 My experience with Sixt in Mallorca has always been great. Very welcoming and friendly staff, great cars and easy to deal with.My next booking has already been made for May 2015.
| 03.02.2015 11:35 always very good service and pleasant staff
| 29.01.2015 17:27 Sehr angenehm war das deutschsprechende Personal!
| 06.01.2015 11:20 I always recommend SIXT to my friends. SIXT is not the cheapest but it is true that "you get what you pay for"! SIXT provides a quality service which is consistently excellent.
| 31.12.2014 11:39 All good thank you We will use Sixt again
| 19.12.2014 09:31 Overall a very good experience. Looking forward to our next rental with Sixt !
| 18.11.2014 19:39 Having experienced various poor experiences from car rental companies I researched feedback on trip advisor. You were consistently the best and I was not disappointed.Overall only fractionally more expensive than the cheaper companies but vastly better. You even met my request for a mini rather than a Volkswagen.PS love your office at...
| 17.11.2014 12:34 The service provider upgraded my vehicle to a premium vehicle without charge including automatic, diesel, and GPS. As a result I added additional coverages which she explained for a reasonable cost. I was very satisfied with the service provided and value received.
| 07.11.2014 16:41 Excellent efficient service with great quality vehicles.
| 07.11.2014 16:14 Very efficient all round, no problems
| 23.10.2014 17:47 Best rental experience in Majorca we have experienced
| 21.10.2014 16:34 Great company and very good car with equally good customer service
| 15.10.2014 10:53 The service is excellent. Thank you
| 15.10.2014 10:29 This was by far the best car hire rental I have experienced. Quick efficient service, clean car, fuel policy and ease of transactions.
| 15.10.2014 10:00 The car wa great as was the quality of service.
| 03.10.2014 17:00 everything was excellent
| 01.10.2014 10:36 I'd liked to have ticked many more of the boxes above.There was no queue when we went to the desk to sign the forms etc... when picking up the car. Normally when renting a car from other operators at airports, you have to queue for 30 mins or more before you are seen. The car was clean and didn't have any dents or scratches. On...
| 29.09.2014 18:36 Overall a very professional service. Not the cheapest but you get what you pay for!! Completely hassle free from start to finish.
| 24.09.2014 11:49 Once again another perfect experience from Sixt. Have used several other companies before finding this one. No queues, no hassle, great cars and really helpful staff. 100% satisfied.
| 16.09.2014 09:45 fair price ,excellent vehicle, a good experience
| 16.09.2014 08:54 The service at the desk in the arrivals hall in Palma airport was professional, efficient and friendly.
| 14.09.2014 11:29 First time sixt user, all staff i dealt with were friendly, car was good quality, return process quick and easy, and i like the transparent pricing.
| 13.09.2014 14:52 We were very satisfied overall with the service from Sixt from the online booking to the collection and return of the car at Palma Airport, Mallorca.
| 11.09.2014 09:50 Staff were very efficient
| 03.09.2014 17:34 Good car and service was first class
| 03.09.2014 09:56 Very efficient, although the pickup from the parking lot at PMI was a little chaotic due to the sheer number of people trying to get out of the car park.Would definitely consider for my next rental.
| 03.09.2014 09:36 very good service
| 02.09.2014 22:10 Pick-up was friendly & efficient. No hard sell to buy the "extras" that cheaper agencies have to pile on to get their profit margins up. Choice of cars offered within group. Car chosen was one of highest specs for that model. Drop-off at airport took about 1 minute! First time I've used Sixt and will look at them first for future rentals.
| 17.08.2014 09:56 Excellent!
| 08.08.2014 21:16 I was very satisfied with the simplicity and clarity when booking the car, it was a quick and easy collection af the car at Palma Airport and I was treated professionaly be the employees. A super car that gave an excellent driving experience and a quick and easy return process of the car in Palma Airport. The next time I have to rent a...
| 08.08.2014 09:33 Dear Mr. Eichhorn,Thank you very much for your participation in our Sixt Customer Satisfaction Questionnaire.It is a pleasure to know that our local service and also the provided car have been to your full satisfaction. Your positive feedback concerning your car rental on the 25/07/2014 at our Sixt branch at Palma airport on the island...
| 06.08.2014 19:31 Dear Mr. Mitchell,thank you very much for your positive feedback concerning you car rental with Sixt the 26-07-2014.We appreciate that our service and the supplied car have been to your satisfaction,of course we all will do our best to guarantee you this service also in the future. It is true that Sixt is not the cheapest provider but...
| 05.08.2014 13:22 Altogether a good experience. Website/staff/process/car as it should be with professional car rentals.
| 27.07.2014 18:57 I liked the whole experience. Service was very good.
| 23.07.2014 13:34 We were upgraded to a four door car free of charge and the car was very clean,the whole experience was very good. No complaints at all.
| 12.07.2014 16:47 Es war für uns wiedermal perfekt !!! DANKE und GERNE WIEDER
| 11.07.2014 15:27 Great experience, thanks!
| 08.07.2014 10:21 The most pleasing aspect was that there were no hidden extras as is the case with many rental companies, especially in Spain,it was most refreshing to actually receive what I wanted and had booked. Your staff not only looked professional but acted the same way and were extremely helpful and reassuring.Thank you for a very pleasant...
| 03.07.2014 02:55 Good cars, Easy check in. Always get car I expected or better. Staff are polite and helpful. Return easy and quick.
| 26.06.2014 22:01 The best car hire I have had in Mallorca. Good car, excellent service, easy. Well done.
| 26.06.2014 15:32 This was my first booking with Sixt and the whole process was very smooth and efficient. Everyone we encountered was very helpful, and both the pick up and return of the vehicle was made simple and straightforward.
| 24.06.2014 10:43 Very pleasant reception staff and very efficient. The chap at the garage area was very helpful and the car was excellent. An all round first class service. I wished you had an office in Murcia Airport.
| 11.06.2014 09:39 Great service, great price, happy customer!
| 06.06.2014 16:10 Really good service! It is the best on the island, keep it up!
| 24.05.2014 09:34 As usual, an efficient service and a clean modern car. Well done!
| 18.05.2014 10:20 This was my first ever car rental & found the process very quick & easy. I would definitely be using Sixt again!
| 17.05.2014 09:45 Flexibility on fuel payment, good price, all inclusive pricing with no hidden extras for zero excess. Quick pick up and drop off. An excellent service.
| 05.05.2014 22:18 kurz und knapp - sehr gut !
| 05.05.2014 18:16 Es war alles bestens.
| 28.04.2014 14:07 kompetente und freundliche Mitarbeiter, rasche Abwicklung trotz hoher Kundenzahl.
| 27.04.2014 12:28 Excellent service and vehicle!
| 26.04.2014 18:27 Quick, easy pick-up. No unexpected extra charges. Quick easy drop off.
| 22.04.2014 08:48 Everything worked out well - no problems.
| 21.04.2014 11:06 the best rental experience in over 40 years of hiring cars in europe
| 20.04.2014 16:12 Hat alles super geklappt, besonders Rückgabe (ohne Zeitverlust)sehr unkompliziert.
| 19.04.2014 16:16 We have been renting in Mallorca for 13 years and this is the best service on the island. We find your information about renting clear and honest and the full-tank-return is an extra bonus.
| 18.04.2014 07:05 During admin and vehicle collection at the airport, staff were very helpful and efficient.
| 16.04.2014 16:17 Excellent customer service and a quick and efficient rental. Excellent use of technology in viewing vehicles and the return process. Will definitely be using sixt again!
| 15.04.2014 07:14 This was my first rental with Sixt and I have to say I was impressed with the service , quality ofcar, and choice of fuel purchase as return full or return full. The service was definitely superior to the 4 or 5 otherrental companies I have used in Majorca.
| 26.03.2014 15:36 Die deutschsprachigen Sixt Mitarbeiter, sowohl beim Check-In als auch bei der Schlüssel-und Fahrzeugübergabe fand ich sehr angenehm (insbesondere im Vergleich mit anderen, ortsansässigen Autovermietern, die sich wenig Kundenorientiert verbal in gebrochenen Englisch artikulieren).
| 17.03.2014 16:44 Everything was as it should be, quick, efficient, and an excellent new clean car.
| 12.03.2014 11:04 Agent was very helpful
| 06.03.2014 13:31 Alles o.k.Danke
| 02.03.2014 13:00 Twenty years Sixt user it' s allways a pleasure.
| 25.02.2014 15:16 As always very good service and value for money. Staff very helpful.
| 25.02.2014 14:03 Always excellent staff in Mallorca, please give them my feedback directly.
| 10.02.2014 12:10 The service and vehicle were very good. I was particularly impressed with your staff at both the start and finish of the holiday.
| 10.01.2014 16:16 Good quality cars and the most important factor is the full out/full in option for fuel. This makes it an economical option if we don't do too many miles in the car.
| 06.12.2013 11:02 Probably the most positive car rental experience I have had in five years. Love the easy pre-check in and automation of getting keys etc. Price was very fair and the car was spotlessly clean.
| 04.12.2013 20:39 Everything was perfect: easy reservation process, fair prices, friendly staff, cool car with all goodies, uncomplicated return process. You'll see me again :-)
| 07.11.2013 06:43 Thanks for a quick and easy rental.My best experience yet of any rental company
| 01.11.2013 11:51 I was very pleased you enabled me to rent 2 vehicles with 1 creditcard and 3 drivers.
| 31.10.2013 15:24 Your fuel policy (full to full) is the main reason I rented from you and not the company I had previously rented from.
| 30.10.2013 21:00 Fantastic, Fantastic Sixt keep up the good work
| 30.10.2013 11:58 I was very pleased with the whole experience. I would certainly look up Sixt again.
| 30.10.2013 10:32 FANTASTIC SERVICE AS ALWAYS. VERY QUICK PROCESS
| 24.10.2013 10:19 Amazing service and an awesome car. Thanks!
| 20.10.2013 17:19 Gesamte Abwicklung war übersichtlich, zügig und sehr zuvorkommend.
| 16.10.2013 12:38 The booking and payment was easy and the discount for the armed forces was a great help and very welcome.
| 15.10.2013 10:31 Very speedy collection/drop off at the airport. Will definitely use you again
| 13.10.2013 12:51 I was very impressed with the efficiency. There was no time wasted, and everything - both collection and return worked like a well-oiled machine, with no time wasted waiting. Staff were also very efficient and polite. It was very helpful receiving the email the day before explaining all the details (location, procedure etc). I feel...
| 09.10.2013 18:35 My best car rental experience!
| 07.10.2013 07:55 I really liked that you had a special offer and avvertised it
| 04.10.2013 12:06 SIXT war die erste Autovermietung mit der wir zu 100 % zufrieden waren.Es gab nichts zu beanstanden. Als besonders positiv empfanden wir, dass das Personal am Flughafen Palma aus Deutschland war und es deshalb keine Verständigungsprobleme gab. Auch dass uns drei verschiedene Fahrzeuge zur Auswahl angeboten wurden, war ein zusätzliches...
|
|
Branch Info.
Address:
Arrivals Hall
07610 Palma de Mallorca ES +34-902-491616
Type of station:
airport
GDS - Code:
PMI
SIXT Num.:
6809
Opening Hours
Mo. - Su.
00:00 - 24:00
Bank holiday
00:00 - 24:00
Welcome to the Majorca Palma Airport Sixt rent a car office
Hola! My name is Franziska and I am the Branch Manager for our Majorca Palma Airport branch. My team and I welcome you to the fabulous island of Majorca! Our on-site car hire Airport branch is located within the Arrivals Hall itself so it couldn't be easier to transition from your flight to your first class car rental experience. We aim to ensure that all of your hire car needs are met efficiently and professionally, with your friendly team delivering personal customer service and a premium quality hire vehicle for you to enjoy on your trip. From economy to luxury, we cater for all requirements with our fleet including city compacts, family estates and convertible supercars. We look forward to welcoming you in person, and wish you a pleasant flight here.
Andrea Schneider ( Branch Manager )
Our car hire services at Majorca Palma Airport (PMI)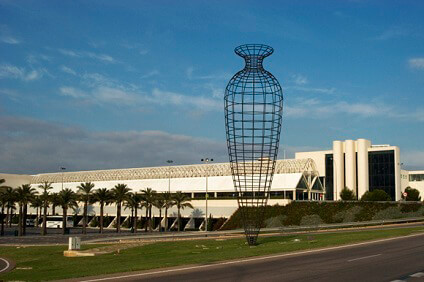 Copyright: aena-aeropuertos.es
Enjoy the sun, sea and sand, with Sixt taking care of all your rental vehicle concerns. From stepping off the plane, a member of our friendly team will be ready to greet you at the Sixt desk located in the Arrivals Hall. Our staff are on hand all day Monday to Sunday, including public holidays, plus we operate a 24 hour car hire pick up and return service so that you can start and end your journey at whatever time suits you. We will help you arrange a tailored car rental to suit your exact trip and passenger requirements, with a vehicle fleet ranging from economy city cars for nipping around the towns to family estates and passenger carriers guaranteeing extra space and comfort to 4x4s and SUVs for exploring the countryside, and also featuring sports cars and convertibles so you can fully enjoy the hot and sunny weather. Add extras to your rental such as sat nav, child car seat and additional driver options, plus take advantage of our flexible rental terms such as unlimited mileage and long term renting deals.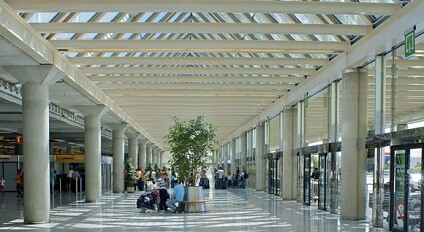 Copyright: aena-aeropuertos.es
Explore Majorca with us
Majorca, or Mallorca in Spanish, is the largest of the Spanish Balearic islands archipelago and its capital, Palma de Mallorca is the capital city of both the island Majorca and the Balearics. Palma is a stunning ancient city with a diverse heritage apparent in its architecture and streets. The magnificent cathedral La Seu, built on the site of a mosque, and the nearby Old Town with its maze of streets and the Banys Àrabs (Arab Baths) are fascinating places to explore. Most visitors are immediately drawn to the beautiful beaches that are spread across the hundreds of miles of coastline, car hire is a popular way to escape the crowds and travel further along the coastline to find smaller beaches, or even dart across the island and discover sights hidden away from the main flock of tourists. The Palma de Mallorca Airport is the third busiest airport in the whole of Spain and serves around 20 million passengers each year. With inbound and outbound flights from around the world, Palma de Mallorca Airport is truly a global travel hub. Located just over 6 miles east of the city of Majorca, it is quick and simple to head into the city centre with a drive of just 10 minutes, or to access other areas of the island from large resorts to small traditional villages.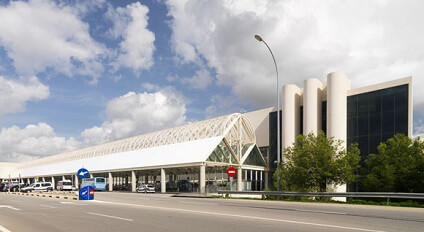 Copyright: aena-aeropuertos.es
Car Rental Branch Details
Opening Hours
| | |
| --- | --- |
| Mo. - Su. | 00:00 - 24:00 |
| Bank holiday | 00:00 - 24:00 |
Contacts / Lost & Found
SIXT Num. Majorca Palma Airport PMI
Arrivals Hall
07610
Palma de Mallorca
39.546850, 2.728680
+34-902-491616
+34-971-570212
SIXT Num. Majorca Palma Airport PMI
Arrivals Hall
07610 Palma de Mallorca
Phone no.
+34-902-491616
Fax
+34-971-570212
Location Plan - How to Find us
Your way to Sixt:
Our rental counter is accessible from the side of the luggage belts. We recommend you to go to our counter and do the contract, while you are waiting for your luggage.
Car return:
The Car return is also at the airport. Follow the signs for "Car Rental Return". Drop off is in the line A, in our Sixt Parking Area. A staff member will check the car with you.
Sixt Express Counter - the fast way to the rental car
You will find the Sixt branch in the arrivals hall in Terminal 1. You can reach our rental counters from two sides. As an Online Check-in user, we recommend you to leave the security area taking Exit C. After a few meters, you will see our Online Ckeck-In counter on the left side. After creating your contract, you will find your key in our key machine in the car park.
Rent a Car Services at this Branch
Cars & estates
Sports cars & convertibles
4x4
Trucks