Car hire Barcelona airport | Branch details
What our customers say





| 26.06.2015 15:05
| 22.06.2015 16:20 everything is fine
| 20.06.2015 15:10 Very professional , good vehicles
| 25.05.2015 20:21 the car had only 1000KM and had beautiful AMG package that comes with nice wheels.
| 24.05.2015 17:10 Bloody marvellous.
| 15.05.2015 01:55 The lack of queue was a real plus and the person attending to me was first class
| 13.05.2015 13:01 Everything was ready for us at the counter when we arrived , paperwork , keys ..., the vehicle was only a few steps away in a covered parking deck and it was practically new , thank you sixt and see you next time
| 04.05.2015 11:23 A big Pleasure!Thanks
| 29.04.2015 14:41 Excellent staff prpfessional and helpful
| 17.04.2015 17:08 Due to the strike by French traffic controller and our cancelled flights for both the main driver and the added driver, the numerous contacts with had with Sixt representatives was exceptional. We had to change the pick up date & times three times and they made it easy to do. We highly recommend using your services.
| 09.04.2015 12:16 the staff was friendly, helpful and polite.
| 17.03.2015 17:04 Me gusto mucho y definitivamente volvere a rentar automovil con ustedes.
| 17.03.2015 13:27 All in all a pain free experience but the staff at T1 in Barcelona were absolutely fantastic. Very nice and friendly both guys I dealt with
| 02.03.2015 17:55 More than Satisified
| 02.03.2015 15:02 The Barcelona team (BCN T1) always provide good service. As a Diamond member I always get immediate attention in a very service minded and proffetional manner ! Keep up the good work !!
| 02.03.2015 07:00 Todo el proceso es muy claro y efectivo. En este caso el coche era nuevo. Personal muy atento, amable y efectivo
| 14.02.2015 18:54 All good and new vehicle
| 29.01.2015 10:54 Everything was perfect.
| 14.01.2015 18:23 The staff was very friendly and helpful. They clearly understood what was expected and organized the car accordingly. I had an unpleasant experience on the highway to Valencia and event at that time the assistance of the staff was perfect and was highly appreciated by me. Please note that I do all my rentals via sixth in turkey as well...
| 14.01.2015 12:57 The car was in excellent condition and check-in staff was really helpful and nice.
| 10.01.2015 11:12 Perfection
| 24.12.2014 18:33 we will definitely rent from your company if so needed. service when we picked up car war great as well as drop off .billing was quick and car was new and clean and great.thank you for the experience
| 22.12.2014 17:04 Employees are offering options: car, equipment, price etc Well done!
| 14.12.2014 18:37 it's just perfect!
| 21.11.2014 14:39 Loved the car, loved the service.
| 13.11.2014 14:11 Excellent price, excellent staff
| 10.11.2014 11:13 Sixt is my preferred car rental company: easy access, big miles, no hassle...
| 06.11.2014 19:23
| 03.11.2014 10:35 Thanks a lot to Astrid, your employee was very helpful during the pick up process.
| 22.10.2014 10:35 Didn't have to wait in a long queue to pick up and drop off which was great
| 13.10.2014 01:16 It was very nice to get the receipt as soon as my rental was complete and it was accurate as I had expected.
| 06.10.2014 08:08 The service was fantastic, so quick in comparison to other service providers. the rates were comparable and the booking easy to navigate online, seamless from booking to pick-up & drop. Many thanks.
| 01.10.2014 13:50 very efficient operation, and obviously well trained employees.
| 30.09.2014 09:56 Excellent car at a fair price. The staff were all extremely helful and efficient. I will definitely use Sixt again
| 23.09.2014 16:52 The automobile was ready when I arrived at the Sixt counter in Barcelona and the young lady at the counter was EXTREMELY professional/helpful. She quickly and efficiently processed the transaction using excellent English (relieving both of us from suffering my horrendous Spanish).Unfortunately the vehicle suffered minor damage while...
| 04.09.2014 12:09 Staff was very friendly!
| 04.09.2014 10:05 Everything was great as usual - I have previously rented from another car rental company more often but service is by far better at Sixt!! thanks.
| 25.08.2014 09:04 I want to express my gratitude for the help from Sixt in solving problems when we are lose my keys. I am very grateful for the efficiency job and excellent assistance.
| 20.08.2014 09:41 Easy to order, collect and return
| 20.08.2014 08:45 It was the first time i had rented a car, and i found the process quick and easy. i would definitely use Sixt again, providing the price is right!!
| 15.08.2014 23:49 nothing negative to say: Price: good (free would have been better)Pick up: after hours. Great, cordial and looking to help at both terminals.return : after hours left the key in the box without problems
| 08.08.2014 06:18 Thank you a lot!
| 01.08.2014 09:00 Sixt is the only rental company that allows young drivers with limited driving experience to rent a car. This was very valuable for us since it allowed our family traveling with older children to share the driving. The additional cost for this was very reasonable. Everything, from booking a car until returning it went very smoothly.
| 30.07.2014 14:07 All ok
| 29.07.2014 10:49 the service was excelent and the staff was very friendly!
| 28.07.2014 16:28 thank you
| 23.07.2014 11:05 The service I received at the Sixt desk in Terminal 1 at Barcelona Airport was quite simply the best I have ever experienced. It was quick, the man was very efficient and friendly and I was delighted with the car. Rent Peugeot get VW is my kind of deal! The guy on the desk read through the notes on my booking and reconfirmed the...
| 16.07.2014 09:47 Very high quality ratio/price!
| 09.07.2014 01:08 I got a new car BMW 320. I was very pleased with the quality of service and professionalism of the staff. In the future I will use SIXT car rental.
| 08.07.2014 07:11 Other colleagues arriving in Barcelona at the same time as me used different rental companies. In comparison - (for me)1 Faster check-in2 Car park easy to find3 Received car very quickly - very pleasant multilingual staffI set off and reached my destination (1.5 hours later), called my colleagues and they still hadn't received...
| 07.07.2014 18:36 I love that Sixt allowed me to specify a diesel. I also like it is a family owned business. Every employee was friendly, courteous and efficient. Great customer service.
| 07.07.2014 11:22 Generally I like Sixt company which I use for 7 years. renting process is quite simple, staff is friendly, nice cars fleet in great condition.
| 06.07.2014 05:47 The individual at the counter was very personable and helpful, the car was exactly what I wanted (I get frustrated with the "or similar" disclaimer), and there were no issues during the entire process.
| 26.06.2014 21:29 This was the first time I have rented with Sixt, and I was satisfied. When we got to our car, we realised we would need a larger one, and the gentleman on duty down at collections was fantastic. He went above and beyond the call of duty to assist us with the upgrade. My only comment would be that it was a little understaffed at...
| 20.06.2014 10:59 The lady who helped us at the counter in Terminal 1 was awesome. She made our day.
| 19.06.2014 19:24 The guy who rent us the vehicle was really friendly and answered all our questions with a lot of patience
| 12.06.2014 15:30 EXCELLENT JOB!!!
| 11.06.2014 15:14 The car was very new and fuel efficient. return of the car was very simple, just returning the key. It was a very pleasant rental experience.
| 09.06.2014 12:38 the person at the counter was really nice the car was perfect the rates are very competitivegreat experience
| 25.05.2014 15:26 Sixt scored high in all your categories above - most importantly I felt that your petrol policy is fair unlike my experience with others - thank you
| 15.05.2014 12:23
| 13.05.2014 21:52 It was a new and very clean vehicle, which was a pleasure.
| 06.05.2014 10:27 Everything is good
| 30.04.2014 12:46 Hello, we rented the car via internet and we ordered a baby seat also but we weren't sure about the size. I called the Sixt service, they informed me very well and then once there, we asked for another kind of babyseat. They changed it immediately. The sixt staff was very helpful!Thank you very much
| 25.04.2014 10:18 Hassle-free, quick, efficient, friendly - so different to your competition!
| 20.04.2014 12:59 Professional and very friendly staff.
| 25.03.2014 10:52 Perfect Service
| 15.03.2014 11:28 This is the first time we have rented a car from Sixt the whole experience was very good and we would most certainly use your company again. Very professional service.
| 10.03.2014 17:01 Friendly agent in kiosk who helped us with GPS unit.
| 27.02.2014 13:22 The employees were extremely helpful. They suggested I upgrade to a 4-wheel drive as I was going to the mountains. They noticed I had checked tire and window insurance but not some other insurance (not sure what, it cost 13.50 euros a day) and since it was unusual, they asked me if I had made a mistake. I had (like I'm sure many of...
| 25.02.2014 12:11 Overall an excellent experience. I will recommend to friends and colleagues particularly due to the clear pricing with no hidden charges
| 21.02.2014 12:23 Muito bom o serviço.
| 20.02.2014 11:38 The lady who gave us the papers and keys was super nice and professional. The man who we returned the car to was speedy and funny. Was very helpful. The car was nice and what was stated when I booked it.
| 08.02.2014 14:38 The best service everThank u
| 05.02.2014 14:30 Bij het terugbrengen van de auto werd de afhandeling van de auto op bekwame wijzegedaan. Vriendelijk en professioneel, we zijn zeer tevreden!
| 04.02.2014 20:42 just thanks a lot for the great service
| 08.01.2014 20:56 Great all around.
| 07.01.2014 15:37 I'm very happy and lucky with SIXT service
| 25.12.2013 18:08 The emplyees were very helpful at the counter and at the pick-up place. They were very helpful to provided instruccion how to use the GPS, they even help to load our laugage inside the car. At the counter, the lady was very kind.
| 20.12.2013 14:08 100% satisfied in all aspects. Great company! Great managers that know how to train employees.Congratulations
| 12.12.2013 23:49 Your price was lower and I knew your terminal location was very convenient. I was very pleased w/ the entire process.
| 26.11.2013 12:32 I am most pleased with the alertness shown by one of your ground staff to spot a hanging bumper rubber from my newly picked up car and the degree of attention shown to resolve the problem promptly.
| 21.11.2013 10:52 Very friendly and efficient staff. Congratulations.
| 20.11.2013 12:17 Experience was indeed very positive and we liked how our booking was handled at the branch.
| 19.11.2013 10:46 Absolutely everything was perfect: internet booking, payment, parking facilities, car quality, friendly employees and etc.
| 31.10.2013 11:57 A very efficient helpful lady and man on checking in. Car was good.
| 28.10.2013 16:49 Extremely frendly and helpful staff.
| 14.10.2013 09:51 I rent cars with SIXT nearly every week and find it really a good Company with good Prices for the Services offered.
| 12.10.2013 10:33 Good car although computers did not produce a check in bill the same at the online one. However when the discrepancy was identified the receptionist was very helpful and resolved the problem without any issues. Check-in returns was a speedy and efficient process.
| 11.10.2013 12:02 I was very satisfied with your car and also I like that your staff was friendly and helpful. Thank you!
| 11.10.2013 10:48 Keep doing great business =)
| 11.10.2013 00:10 I would highly recommend this car rental agency. The prices are fair, the staff friendly and helpful, and the car we had was very nice.
| 03.10.2013 18:13 Everything is fine! Thank you!
| 01.10.2013 15:42 All around good experience!
| 01.10.2013 05:25 The person at the rental desk was very friendly, professional and helpful. We required a larger vehicle than previously booked and they were very helpful in assisting us.
| 29.09.2013 10:50 A big thank you to the staff at Barcelona Airport for help when I forget my wallet in the car!
| 25.09.2013 10:46 It was a great experience for my first rental. I enjoyed the car and service very much. The car was very clean and in good condition. Keep up the good work.
| 24.09.2013 11:44 Keep up the good work, it was great from the pick up to return, very friendly staff and also very helpful...
| 22.09.2013 19:42 Professional and well prepared staff
| 20.09.2013 22:41 Sixt branch at Barcelona airport was the only open Branch at 4.30am.
|
|
Branch Info.
Address:
Terminal 1 + 2 Llegadas
08820 El Prat de Llobregat ES +34-902-491616
Type of station:
airport
GDS - Code:
BCN
SIXT Num.:
7277
Opening Hours
Mo. - Su.
00:00 - 24:00
Bank holiday
00:00 - 24:00
24 h return

Welcome to the Barcelona Airport Sixt rent a car office
Hola! My name is Esther and I am the Branch Manager for our Barcelona Airport branch. My team and I welcome you to the bustling city of Barcelona and the unique region of Catalunya! Our on site car hire services are convenient for all travel through Barcelona Airport, with rental desks located in both Terminal 1 and Terminal 2 we ensure that no matter where you are flying into or out of you will have a smooth and easy transition from plane to vehicle. All of our cars are premium quality and modern top range, appropriate for all budgets from economy to luxury. We aim to cater for all requirements, with our fleet ranging from city cars, family estates and passenger carriers to 4x4s and SUVs for exploring the countryside, and also featuring sports cars and convertibles so you can fully enjoy the fabulous weather. We look forward to greeting you in Spain!
Esther Serrano Antenero ( Branch Manager )
Our car hire services at Barcelona Airport (BCN)
Enjoy an unforgettable drive with our outstanding car hire services, helping to ensure that you have a great trip whether for holiday or business. From your arrival into Barcelona El Prat Airport, our team will be waiting to provide first class service with convenient, on site car hire. We have rental desks in both Terminal 1 and Terminal 2 so that you have a seamless experience from plane to vehicle no matter what airline and destination. Our team are on hand to provide 24 hour rental service so that you can fit your car hire around your schedule without worrying about fitting in your rental collection and return. Pick up a small city car to nip around Barcelona or reserve a family estate or people carrier to provide comfort and space for everyone travelling. As well as offering economy hire, we also feature a luxury range including convertibles and sports cars to fully enjoy the Mediterranean sun and Spanish roads. Personalise your rental package with our extensive extras and additional services range including sat nav, child car seat and extended insurance cover as well as unlimited mileage, one way hire and second driver options to ensure that you are not constrained on your Catalonian adventure.
© aena-aeropuertos.es
Explore Barcelona with us
As the second largest city in Spain and the capital of the distinctive region of Catalonia, Barcelona is a 24 hour city that packs culture, fun and spirit. With such beautiful weather, miles of beaches, and a vibrate culture, Barcelona is the fourth most visited city in the world attracting millions of holiday makers each year. The unique flair of Gaudi's architecture can be enjoyed across the city, sitting side by side with the atmospheric Gothic Quarter and modern harbour, all creating a whirlwind of sights, sounds and flavour that is bursting with life and mystery. Discover Barcelona's heritage tracing back to Roman time and still being created today with countless museums including the Barcelona City History Museum (MUHBA), the Museum of the History of Catalonia and the Archeology Museum of Catalonia. Visit the remains of the original Roman city walls from 15 BC which have been incorporated into the La Seu Cathedral. Live the art and culture which is so important to this region at the National Museum of Art of Catalonia, the Barcelona Museum of Contemporary Art and the Fundació Joan Miró, Picasso Museum and Fundació Antoni Tàpie. And for something a bit different, check out the Erotic Museum of Barcelona...! For some relaxation and partying, the beaches of Barceloneta and Sant Sebastià, which have been voted for the best city beach in the world. With such a big city to explore, as well as the equally beguiling region of Catalonia, car hire is a convenient and efficient way to discover its treasures - being both quicker and allowing more access than public transport as well as cost-effective if leasing for over a week or having a larger group to share with. Barcelona El Prat Airport is located just over 8 miles outside of the city centre itself with a drive of just over 20 minutes into Barcelona. Our airport rental services ensure that you can travel quickly, conveniently and without the delay or crowds of public transport.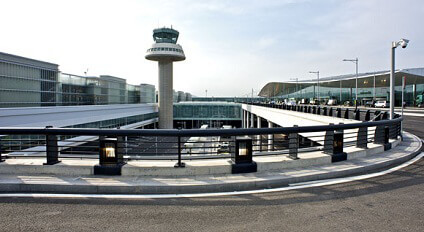 © aena-aeropuertos.es
© aena-aeropuertos.es
Car Rental Branch Details
Opening Hours
| | |
| --- | --- |
| Mo. - Su. | 00:00 - 24:00 |
| Bank holiday | 00:00 - 24:00 |
Contacts / Lost & Found
SIXT Num. Barcelona Airport BCN
Terminal 1 + 2 Llegadas
08820
El Prat de Llobregat
41.296961, 2.078390
+34-902-491616
+34-933-807531
SIXT Num. Barcelona Airport BCN
Terminal 1 + 2 Llegadas
08820 El Prat de Llobregat
Phone no.
+34-902-491616
Fax
+34-933-807531
Location Plan - How to Find us
Rental information:
Please provide your flight number or Arrival Terminal (T1 or T2) when completing the reservation. If a valid flight number is not present, the vehicle will be at the Terminal 1.
Terminal 1:
The Sixt branch is located at the Arrivals Hall. Please look for the Car Rental signs.
Terminal 2:
The Sixt branch is located at the Arrivals Hall of section B. Out of hours, we are pleased to serve you at Terminal 1.
Return the car:
C31 - Aeroport. Follow signs for Terminal 1 or Terminal 2. Follow signs for Car Rental. Go to "Car Return" and park your car where it is indicated for Sixt.
Out of Hours Pick Up & Return
Out of hour return possible.
Terminal 1: From 00:00 h till 07:00 h you can return your key in our secure safe at our parking office in level 0. Terminal 2: Please return your key in our secure safe at our parking office.
Sixt Express Counter - the fast way to the rental car
The SIXT Online Check-in service is only available at Terminal 1. However, should you arrive in Terminal 2, please indicate your flight number and we will provide you with the rental vehicle on-site.
Rent a Car Services at this Branch
Cars & estates
Sports cars & convertibles
4x4
Choose a car with your smartphone when picking up
24 h return
Express counter